Gwyneth Paltrow Ski Crash Trial Attracts Nearly 30 Million Viewers
Millions of people hit up YouTube and social media apps to watch Gwyneth Paltrow take the stand in Park City, Utah, in her legal battle over a 2016 ski crash.
According to Variety, nearly 30 million people watched the eight-day saga, which ended in Paltrow's favor on Thursday, March 30. More specifically, 16.5 million people watched the trial on Law & Crime Network's livestream on YouTube, 7.4 million watched on Facebook, and 4.2 watched million watched on TikTok.
Of course, the actual viewership number is probably much higher. As Variety notes, those figures don't include livestreams and airings through Court TV and the Associated Press. Plus, the Law & Crime Network also has carriage deals with Roku, Samsung TV and Sling TV, which report viewership figures quarterly.
"This trial performed incredibly well for us across all of our platforms," Rachel Stockman, president of the Law and Crime Network, told Variety, with the magazine noting that it was one of Law & Crime's most-watched trials. "The interest continued to multiply each day we streamed it on our social live feeds, linear channel, and for our video-on-demand."
The trail was the result of a lawsuit brought on by retired optometrist Terry Sanderson, who claimed that Paltrow crashed into him on a Utah ski slope in 2016. Paltrow, however, claimed it was Sanderson who skied into her that day.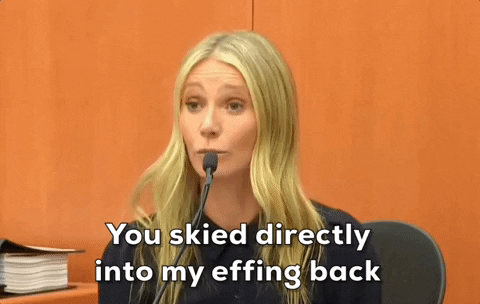 Ultimately, the jury sided with the Shakespeare in Love Oscar winner, awarding her a symbolic $1 in damages.
"After the Johnny Depp defamation case, there seems to be a particular fascination with celebrities in court and this pretty simple personal injury case is the perfect example," Stockman explained. "If there hadn't been a celebrity involved, no one would have cared. To be honest, viewers would have found the details quite uneventful in this civil suit. For this trial, however, we saw just the opposite, with viewers hanging on to every nugget."