'Fargo' Season 5: FX Unveils First Look at Jon Hamm, Teases 2023 Return
FX is giving fans their long-awaited first look at Fargo Season 5 with two newly-released photos featuring star Jon Hamm and what appears to be Joe Keery.
Along with releasing two photos, the network also teased that Season 5 of the critically-acclaimed limited drama series will arrive later this year in 2023. The tease was made on social media where FX's profile posted, "didn't know how much we needed Jon Hamm in a cowboy hat. the fifth installment of @FargoFX arrives later this year."
As previously teased, Hamm, who is known for Mad Men, will play Roy in the upcoming installment, meanwhile, Stranger Things' favorite, Keery, is slated to play Gator Tillman in the highly-secretive chapter. There's certainly a western vibe to their appearances which take the show into 2019, the most modern setting for the series to date.
Fargo has traveled through decades, cities, and families, and the fifth installment will be no different as the logline teases, when is a kidnapping not a kidnapping, and what if your wife isn't yours?"
While that vague tease may not seem like much, the images offer fans a better understanding of the characters they'll see onscreen.
Only time will tell what that means for Hamm and Keery's characters who join costars Juno Temple as Dot, Jennifer Jason Leigh as Lorraine, Lamorne Morris as Witt Farr, and Richa Moorjani as Indira Olmstead among others. Stay tuned for more updates on the forthcoming season as we continue our season.
Fargo, Season 5 Premiere, 2023, FX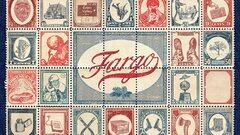 Powered by