Why Adam Cole & Britt Baker Decided to Get Personal in 'AEW: All Access'
Adam Cole and Britt Baker are used to the spotlight as two of the most popular stars in All Elite Wrestling. Yet, opening up their lives outside the ring for new TBS unscripted series AEW: All Access was a different animal. Cameras follow the power couple along with fellow wrestlers Tay Melo, Sammy Guevara The Young Bucks, Saraya, Wardlow, Eddie Kingston, and owner Tony Khan to give viewers an unprecedented peek behind the curtain.
During filming, Cole (real name Austin Jenkins), and Baker faced a challenging end of 2022. Cole contemplated if he would ever wrestle again, following two serious concussions in the space of three weeks. This weighed on him physically and mentally as well as his concerned girlfriend. Baker still somehow had to focus on her own career wrestling and then getting off the road to see patients where she'd fill cavities and promote the importance of flossing. Yes, Dr. Baker, DMD is a legit dentist!
Ahead of the premiere, the dynamic duo opened up about showing a more vulnerable side to audiences, Cole's triumphant first match back, and more.
Was it a difficult decision to decide to participate in the show?
Britt Baker: It was many decisions along the way. I agreed to do a documentary, a reality-type of the show being a dentist and wrestler. Then Adam Cole was signed to AEW and it became whether would he like to be a part of it. Then he agreed. Then Adam Cole had a very serious head injury. They asked if he still wanted to do it, and I thought probably not. He shocked me and everybody when he said he still really wanted to do this. This was a gradual process where everything fell into place.
Adam Cole: The process was intimidating getting that private, especially at such a low point in my career and my life. The crazy amount of support from so many fans who had no idea what I was going through meant the world to me. I think the idea of capturing the ups and downs of the entire process, where the fans could go along for the ride and understand what happened. I'm glad we did it.
Adam, the official premiere falls on March 29. The same night as your return to the ring. How are you both feeling about that?
Britt:  Adam's first match back is terrifying. I know he is one of the best wrestlers in the world and knows he is going to be okay. But any time anyone is in the ring, there is always that risk and hope everything will go well. My fingers and toes and everything will be crossed.
Adam: I'm incredibly excited, but I'd be lying if I said I wasn't nervous. I've been doing this for 15 years, and I've never been away from the ring for nine months. It will be nine months by the time I have this first match back. For the most part, I'm just thrilled and excited to get back in front of the fans again. To wrestle again for AEW with AEW: All Access, which is the most private I've been with the public. It's a pretty huge week. I'm overall super pumped.
With reality TV, your relationship will be under a microscope. After six years together, you're going to get those usual questions couples get like when are you getting married? Do you plan to have kids?
Britt: We've been getting that question since the first week we started dating. I have the mindset of when you know and forever is forever. You don't need to rush that. We are so incredibly busy right now with wrestling and everything else. We live in Florida. Our entire family is in Pennsylvania. It does not make sense right now. Someday yes, but we don't have the time. There are some weeks I'm only home two days out of the week and then for the whole month. It logistically doesn't make sense right now.
Adam: We are enjoying the journey. Dating for six years has been wonderful. We've taken massive steps in our relationship and will continue to do that. When it comes to marriage and starting a family, absolutely someday. But until then we're enjoying each other's company.
What kind of impact do you think All Access will have?
Britt: What I love about this show is it really is all-access. It goes into wrestling and what goes into making a wrestling show, but it goes into us as wrestlers and people. It humanizes us. I hope it shows the brutality and how wrestling hurts. There is nothing fake about it. The whole first episode we talk about this whole career-ending head injury and I'm getting a shot in my back. It's not a fake shot. I hope we add a little more respect to the pro wrestling business.
Adam: For wrestling fans who already have a massive amount of respect for what we do, I think they'll have even more respect for the process. Being a wrestler, being on the crew, having to put on a live television show every week. I think this will be fascinating for fans and non-fans alike.
Britt, you make no bones about your opinions on Thunder Rosa as AEW women's champion. With so much internet talk, how was it for you be able to give viewers an idea of what went on during that period through the series?
Britt: You see it in the show. All I did was ask a simple question. If someone calls themselves the champion every single week when you fly all over to do seminars, signings, and film blog content… why can't you get on the flights to get to AEW because that is where you're the champion? That's the company and brand you're representing. We have tons of injured talent that come to work just to hang when they are able to. Some injured talent doesn't have the luxury of being able to fly. Adam Cole is one of them. He wasn't even allowed to leave the house at one point. It was a huge step for him to take a walk outside. There are people who would kill to even be signed to AEW. That's when me being as passionate and fired up about AEW and being an original and being part of the foundation. That's where that comes into play.
Where would you say you two stand today?
Britt: I'll say to be continued.
Adam, what makes Daniel Garcia the first opponent on Dynamite for your return match this week?
Adam: I've wanted to wrestle Daniel Garcia for a long time. When I look at him, he is one of the bright young stars in AEW. There is no doubt in my mind someday he can be the guy running the show in AEW. I think he is that good. For me to come back, I wanted to test myself against one of the best. I'm excited and thrilled and honest to god, it's the first match back.
Is there a show you guys are watching together?
Britt: We are big Ted Lasso people. We watch Yellowjackets. This is going to shock some people, but for the first time we are watching Lost. We love Stranger Things, You. We're big nerds. When we have a day off, all we do is sit at home and watch TV. We don't go out. I can't say enough good things about Cobra Kai and the people involved. And The Last of Us! There are just too many good shows out now.
Adam: There is nothing better than knowing you have nothing to do on a Sunday and a whole season comes out. Then we have me and Britt saying, "Alright, we're going to stay on this couch for a few hours and binge. It's so much fun."
Do you have a show one of you likes to watch but the other tolerates?
Britt: That's definitely Dancing with the Stars for me because he will tolerate it and he'll watch it while playing his handheld video game. I'll be like, "Did you just see that? Wasn't that the best Argentine tango ever?" He'll be like, "Okay, enough."
Adam: Our first show Grey's Anatomy. In the beginning, I was not crazy about it, but I thought we could watch it together. As time went on, I loved the show. It's a great show.
Britt: That was our first show, and we would do it long distance. We watched it over FaceTime because he was in Pittsburgh and I was in Florida. We would hit play at the same time and FaceTime each other. That was our date.
AEW Dynamite, Wednesdays, 8/7c, TBS
AEW: All Access premiere, March 29, 10/9c, TBS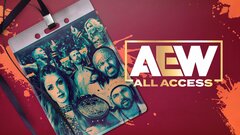 Powered by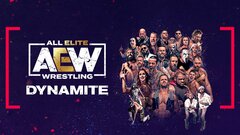 Powered by