House of Lies: Real-Life Pals Don Cheadle and Kristen Bell Talk Season 4, Ugly Sweaters, and Frozen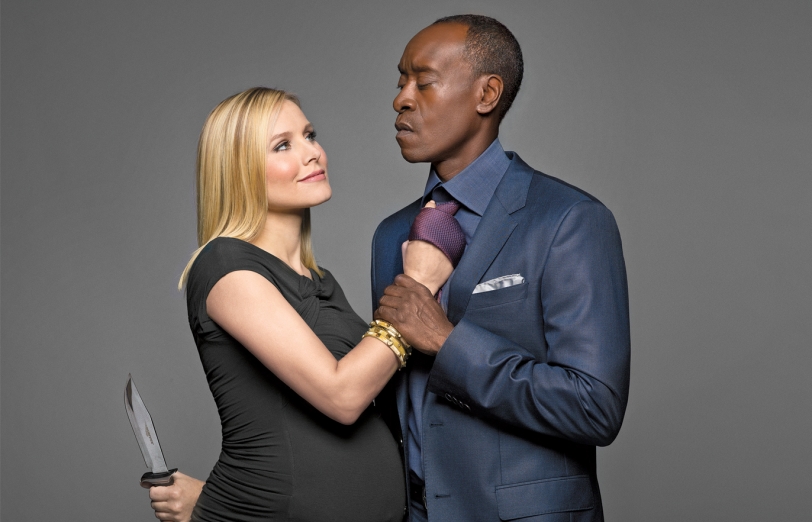 The lives of management consultants Marty Kaan (Don Cheadle) and Jeannie van der Hooven (Kristen Bell) will need a lot of managing on Season 4 of Showtime's raunchy comedy House of Lies. Right after Marty told his longtime colleague he loved her late last season, Jeannie's machinations to win a federal contract got him arrested for conspiracy and left her at the helm of their disgraced firm, Kaan & Associates.
During an interview in which they relentlessly teased each other, Cheadle (a Golden Globe winner for this role) and Bell shared how Jeannie's betrayal and the actress's pregnancy will affect the storyline. (Just 36 hours after this interview, Bell gave birth to a daughter, Delta.)
Marty and Jeannie take turns ruining their chance for a relationship. Why do these brilliant marketing sharks constantly screw up their lives?
Cheadle: They're emotionally dim. They understand how to play the callous, cynical game that gets them ahead in the business world, but when it comes to affairs of the heart, they're teenagers.
After his stint in jail, Marty is back at work—with the woman he believes put him there still his partner. How are they coping? Is it a real power struggle?
Bell: Jeannie is doing her best to be in the driver's seat, which poses some problems. More importantly, she's facing the emotional consequence of accidentally having ruined the best thing that ever happened to her—Marty. She shows vulnerability.
It doesn't seem to matter to Marty that Jeannie didn't mean to get him in trouble with the FBI. Does it?
Cheadle: Let's just say that he doesn't see much difference between her intentions and the result. He can't trust her.
In the final scenes of Season 3, the firm was dumped by all their top clients. Now they have to share office space with a party app, and they're advising Rathman the Ratman!
Bell: They scrape and bow for difficult, annoying, and not-very-worth-it clients, and that provides a lot of comedy.
Speaking of comedy, can we expect lots of crude and uncomfortable jokes at the pregnant Jeannie's expense?
Bell: We still have the same writers, if I could put it that bluntly. They don't really leave any stone unturned when they're looking for comedy and provocative subject matter. [Laughs]
The characters can be so mean to each other. Don, has it been harder to do those scenes with Kristen pregnant?
Cheadle: No! [Both laugh] It's easier because there's genuine affection that we have for each other. I love K-Bell, so we're able to push it further.
Bell: We love being mean to each other on screen because there's so much love between us in real life. I feel really lucky to be working with…what is your name again? Oh, right, Don.
Cheadle: The first three seasons, it was Mr. Cheadle. That's probably why she's forgotten my name.
Bell: The first season was "sir."
Cheadle: That's right.
Bell: I'll broaden the love to everyone on the show, because Don is not the only one I like. In fact, he's not even my favorite.
So, how often does Kristen sing Frozen songs on set? [Bell voiced Anna in Disney's animated blockbuster.]
Cheadle: All day! And she'd come in and ask, "Does anyone know what the No. 1 movie in America is? In the world?"
Bell: He'd say, "Frozen" and I'd say, "Still?" I did give you a condolence card when Frozen sent Iron Man 3 [in which Cheadle costarred] tumbling out of the Top 5 [top-grossing films of all time].
Will there be a Frozen sequel?
Bell: We get so busted if we say the wrong thing! I can say there's a fabulous short [film] but not when it's coming out. There are currently no plans for Frozen 2, but the actors are pushing for one.
Don, your dream project has been to produce and star in a movie about the late, great jazz trumpeter Miles Davis. What's the status of Miles Ahead?
Cheadle: We'll be done filming in January. I can promise it will be entertaining and wall-to-wall Miles Davis music.
Bell: We've listened to Don practice the trumpet in his trailer during every break for the last four years. I'm so glad the movie's almost over. [Laughs]
Speaking of your other projects, Don, which was more fun for you: the porn star role in Boogie Nights or working with the Golden Girls in the spinoff The Golden Palace?
Cheadle: Well, I was on copious drugs in both of those projects, so I can't really answer. [Laughs] I would say that one felt like things were going really, really fast and the other felt like things were going really, really slow. But I don't remember which is which.
Bell: One of the favorite things that Ben Schwartz [who plays Clyde on House of Lies] and I do is pull up old Don Cheadle material on YouTube. We just found a TV pilot where a very little boy beats him up!
Well, Don will always be able to make fun of those so-cute Samsung Christmas commercials with you and your hubby, Dax Shepard.
Bell: The truth is we have so much fun doing those silly commercials. They gave us carte blanche to—
Cheadle: —build a wing on your house.
Bell: [Laughs] Samsung wanted a slice of life, and we said, "OK, but our slices are weird and goofy." We do really celebrate Christmas to that degree. Those sweaters are actually ours.
You're on top of the ugly sweater trend!
Cheadle: They never went out of style for a little girl from Detroit.
Can you see Don donning one?
Bell: Don Cheadle can put on anything and strut!
House of Lies, Sundays, 10/9c, Showtime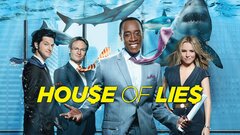 Powered by