'9-1-1' Sneak Peek: Buck Wakes After Lightning Strike — to His Dead Brother?! (VIDEO)
Last we saw Buck (Oliver Stark) on 9-1-1, he was struck by lightning and fell off a ladder, and the 118 rushed him to the hospital in full cardiac arrest. Now, in the March 13 episode, he's … OK? Not exactly.
TV Insider's exclusive sneak peek shows what's going on in Buck's head as his life hangs in a balance. He wakes in a hospital room to a doctor standing above him. "You fell off a ladder, hit your head. Fortunately, nothing too serious, no broken bones, the MRI was clean," the doc tells him. "Maybe next time you decide to go up a ladder, you should have someone there to spot you." Buck, having flashes of what really happened, says he did.
Still, the doctor says, it was a boneheaded move. "You usually talk to all your patients that way?" Buck asks, confused. Yes, he does, Maddie (Jennifer Love Hewitt) confirms, even his little brother. Wait, what? Yes, this is Daniel Buckley, their dead sibling. Watch the clip above for Buck's very confusing family reunion.
"We're kind of playing with two timelines [in Episode 11]," executive producer Kristen Reidel told TV Insider. "We have our real-world story in which Buck is in a coma, and then we do half the episode in Buck's head — or actually more than half, honestly — and we see this crazy, is it an alternate reality? Is it a coma dream? The audience can be the judge. But we see a sort of idealized universe in which where Buck's brother Daniel never died and the ways in which his life changed because of that. It's pretty fun to see the ways, big and small, that the world changed because Daniel lived."
It is going to be "touch and go for Buck throughout all of Episode 11," she warned. That spring premiere cliffhanger, of the firefighter getting struck by lightning, all began from one simple pitch, "it might have been [Juan] Carlos [Coto]," she said, with "'Buck dies,' and I was like, 'I'm intrigued, tell me more.' But it was the idea that Buck, who's on this journey to understand the meaning of his life and what's going to make him happy and who he is as a person, for him to die in the middle of figuring it all out just seemed like a really interesting story and opened us up to a lot of other stories to tell after it. Weirdly, a death experience gives you a lot of life stuff to do after it."
9-1-1, Mondays, 8/7c, FOX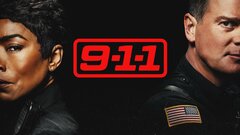 9-1-1
where to stream
Powered by