'Pokémon' Voice Star Sarah Natochenny on Ash & Pikachu Leaving Franchise
Say it ain't so! Fans of Pokémon are still coming to terms with the idea that Ash Ketchum and his longtime partner Pikachu are finishing up their final adventures after a quarter of a century.
Off the heels of the driven 10-year-old finally achieving his goal of becoming a World Champion in Pokémon Ultimate Journeys: The Series, special episodes later this year will mark the end of an era. For Sarah Natochenny, the English-language voice of Ash for the last 17 years, the thought of closing the Pokédex elicits many emotions.
"It has been sad and odd because I was doing this since I was a teenager," the now 35-year-old said of the news. "It's a job I've had my entire adult life. Not revisiting Ash every week as an anchor point in my life is going to be strange… I'm not terribly worried I'll have this deep longing for the work itself because it's staying alive through the fans. I am mentally preparing for not doing this every week. It's still challenging."
Pokémon Company International announced that after putting a bow on the trademark duo's arc, they'll usher in new dual protagonists Liko and Roy along with other characters for the next generation. Before exiting the franchise, Ash has taken a trip back home to Pallet Town where he meets up with original rival trainer Gary. Other characters, including travel buds Misty and Brock, also join in a trip down memory lane for longtime Pokéfans.
Here Natochenny reflects on Ash's evolution, Pokémon's next chapter, and how fans are surprised Ash is voiced by a woman.
Have you finished recording the dubs for Ash's final episodes?
Sarah Natochenny: We finished the actual season, but beyond that, we are not done.
When you look at the 17 years, more than 700 episodes and countless movies, what are some of your favorite moments?
When Ash gets to be an alternate version of himself. Any time he gets to have a British accent or play evil Ash or perform on stage as he did on the first episode of Sun & Moon. Any time I got to go out of my comfort zone within the character it's a bit of a fun challenge and stretch.
Did you see the writing on the wall after Ash finally becomes a World Champion because it felt like such a culmination?
I always knew Ash was a champion. He just needed to win the prize to prove it. I started getting a little bit suspicious when Pokemon Journeys started because he started visiting old friends and visiting different regions. It never occurred to me that Ash Ketchum would finish his time on the show. That was a surprise to me. I found out with the rest of the world when he won the World Championship. After he won, my reaction was naturally, "Wow. I'm so happy for our boy. He finally won. What an exciting moment." Then as the day progressed, I was at a convention when we all found out. People started asking me what was next and what would happen to him. I'm like, "What do you mean what is going to happen to him?" Then I got the news. It was weeks later when producers had a phone call with us. That's when I found out we would not be continuing with the show, and that was a surprise.
If this is the true end, how do you think the writers and producers are handling the exit on the show?
Wonderfully. I think Pokémon is one of the most successful franchises in the world for good reason. They know how to tell a story. They know how to develop wonderful characters that live on through generations. I'm excited to see what they do next. I think 25 years of Ash Ketchum on this incredible journey from not being a great Pokémon trainer and working really hard to becoming the world's best is one story that will live on for generations and be shared with their kids and their kids…I'm looking forward to watching that happen for the rest of my life. It's going to be really special.
How would you describe Ash's evolution?
Ash is perpetually 10 years old, and I think that is very important for people who are having kids or have siblings who want to share Pokémon because the Ash they grew up with is the Ash their kids are going to grow up with. That's an amazing connection for these people. He becomes kinder and more tolerant of the people around him. He started out a little snarkier than he ended up. There is a maturity he gains, but he is still the same Ash we all have grown up with…I'd say through different regions we've explored different sides of him. It's most apparent in Sun & Moon because he goes back to school and we see him in that setting which gives us a different look at him. Then in XYZ he really matures through a very dramatic arc. Over the course of time, he remains the same 10-year-old. Same old Ash.
What do you make of his dad and all the theories out there about him?
I don't have the cannon on that. I'm with the rest of the world. I don't know if we're ever going to meet him. I teased it on Twitter, but I have no idea. I know we all want to meet him and see who he is. It's not my place to say.
How do you feel about the new characters carrying on the torch? Big sneakers to fill.
I think they are wearing their own shoes. I think there are many shoes on the planet and these are different shoes we will see. I think the characters are beautifully done and designed. I'm really excited to see who voices them and brings them to life. I have no doubt whatever Pokémon is going to do with the series will be brilliant.
How many Pokémon cards do you own? Any with sentimental value?
Who is counting?! I have some cute ones. I don't have any million-dollar stuff. Anything signed by Erica Schroeder. I have a bunch of Eevee. I have an Eevee I'm looking at. I play Skyla on the show, so I collect those…I was in Hawaii recently, and we were opening up a base set pack and I happen to pull out a base set Charizard on the boat with friends of mine. That was really special. It's not my favorite card, but it's significant and insane to pull it.
You're attending more conventions these days. Are people surprised when they meet you as the voice of Ash?
There are a lot of kids who come up to me and say, "Ash is a girl!" That's a lot of fun to encounter.
Tell me a time when you were recognized for your voice out in the world.
I'll get recognized at restaurants by wait staff, but the earliest recognition came when I did those Vanity Fair videos in 2020. The pharmacist looked down at my information saying, "I'm sorry, Are you?" It happened at Murray's Bagels in Chelsea (New York City). The worker recognized me and I was wearing a mask in 2020…It happened at the gate at the airport. He looked down and saw my name and said, "I'm sorry. Are you a voice actor?" I loved that upgrade. He told me it was because I had status from traveling so much, not because of who I was. Let's pretend it was.
Lastly, what can you tease about the last special episodes?
Viewers can expect some of the most beautiful episodes of Pokémon we've ever seen. There is more coming after the last episode of the season. Episodes that are going to wrap up Ash's journey. Obviously, I can't say anything more. But having seen what I've seen so far, it is absolutely beautiful and heartwarming. It's going to elicit a lot of emotions in people.
Ultimate Journeys: The Series is streaming on Netflix
Meet Sarah Natochenny March 18-19 at the FUNKO Pop Kon at the DoubleTree Universal in Orlando.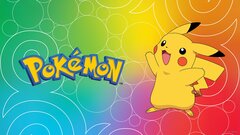 Pokémon
where to stream
Powered by