Dylan McDermott on the Fun of 'FBI: Most Wanted' Paying Homage to 'The Exorcist'
The Fugitive Task Force on FBI: Most Wanted has gone after quite a list of bad guys, but with the February 14 episode, these agents investigate their most disturbing case yet — and it leads to Remy Scott (Dylan McDermott) going undercover as a priest.
In "Black Mirror," when two Vermont teens are kidnapped on their way home from a basketball game, the team is led to a wayward pastor and his brother. Plus, Remy attends a hearing for his brother's murderer.
McDermott previews the challenges (and fun) of this episode for Remy.
What can you preview about the case and Remy undercover as a priest?
Dylan McDermott: A couple of kids are kidnapped — that's certainly something that's always very scary — and they are brought across state lines, so the FBI is brought in. I think this one really hits Remy hard. There's always the echo of his brother. I think that's the fuel for Remy, honestly. Dick [Wolf] and I talked about that early on. That was something that I really pushed for to have that in my history. And I think when a case like this comes up, it just kind of presses all his buttons — his younger brother, being kids, the priest element, also, I think from my own personal background being raised Catholic. There's like all these little triggers that went on in this episode that made it — the ad libs that I came up with just to bring it to life. There's a lot of life in this episode, which I really love.
Your priest comes across as the exact kind you don't want to cross paths with alone at night in a cemetery. That must have been fun to play.
When I'm doing character work such as this — and this was something that I talked to David Hudgins about, I really wanted to have Remy go undercover quite a bit, three, four times in a season — I always use a muse. And of course I used The Exorcist. I had the hat and I had him smoking a little bit and the trench coat. So it was a definitely an homage to The Exorcist, which is always fun to have that muse, too, when you're playing someone else. There was actually a song. I was hoping the song was in there. I sang and they cut it out. I really wanted it though. But he was singing hymns throughout this. I was all in with this guy. [Laughs]
And it takes you a bit back to your American Horror Story days.
Yeah, it was great. American Horror Story is always looming as well. And this felt like an episode somewhere in all the seasons of American Horror Story.
In this episode, Remy also attends the hearing for his brother's murderer, which is really personal and heartbreaking.
This is always something that is really an open wound for him, his brother, although the man who did it went to prison, and now he's up for parole and he's sick. He's done 25 years. And even my sister feels like that's enough time for him, which I totally disagree with. This is a thorn in his side. I think it's really been hard for him to process this and to let it go and to forgive. There's something about it that just feels like it happened yesterday for Remy. So we get to meet the murderer for the first time and we get to see Remy testify against him so that he can't get parole.
FBI: Most Wanted, Tuesdays, 10/9c, CBS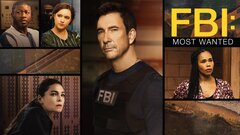 Powered by