'Fire Country' Stars Explain Why This Isn't 'Your Typical Firefighting Show' (VIDEO)
Fire Country has been so hot for CBS that it's already been renewed for a second season and has scored the prime spot after the AFC Championship Game on Sunday, January 29. And sparks are going to continue to fly, stars Max Thieriot (who plays Bode and also serves as an executive producer), Jordan Calloway (Jake), and Stephanie Arcila (Gabriela) promised when they sat down with TV Insider's Jim Halterman.
While Jake isn't just going to step aside without "a little bit of a fight" after his and Gabriela's relationship ended due to her feelings for Bode, Calloway notes how meaningful the relationship between the two men is. (They're slowly reconnecting after an estrangement following Bode's sister's death; Jake had broken up with her that night.) Bode "is his best friend, his brother, and so that's going to be more of a harder pill for him to swallow, seeing the woman that pulled him out his shell and showed him what love is … and then he's losing that one person to his best friend," he says in the video interview above.
Adds Thieriot, "this show's really about complex characters and complex relationships and complex situations, and that's what this love triangle is. … From the beginning, you see that Gabriela and Bode have his magnetic connection between the two of them. I don't know if either one of them wanted this, but it's like this undeniable thing that they've been trying to fight, and they're losing the fight. This love triangle is definitely going to be a good one to explore for a long time."
But it's not just about the love triangle for Gabriela. She's also figuring out who she is, going from diving to the new world of firefighting. "She's being thrown into a world where she's just used to visiting normally," Arcila explains. "Now, she's living in it and trying to create and get to know herself as a woman in a whole different scenario with people that know her more than she knows them."
When it comes to how popular the show is, "there's that big sort of sigh of relief that you get," Thieriot shares. "I think the thing about this show is it's a little unexpected for people. I say that because it's really not your typical firefighting show. … We really lean into these character stories, and we really invest in these relationships and exploring the journey of all of these characters throughout the season, and I think people aren't as used to that on network television."
There's also the story of redemption at the heart of it. "You have a show where you're actually showing prisoners that are getting a second chance, that are trying to make something of their life, and that's just a universal story everybody can attach to," according to Calloway.
Watch the video interview above with the stars for more about the love triangle and show, as well as Thieriot's reaction to his TV Guide Magazine cover.
Fire Country, Fridays, 9/8c, CBS (Special episode airing Sunday, January 29, 10/9c or immediately following the AFC Championship Game)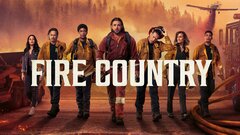 Powered by