Adam Scott Confronts 'Boy Meets World' Co-Stars Over Awkward On-Set Moment
This week, Adam Scott relived his early days on set in Hollywood for the Boy Meets World podcast Pod Meets World. And it sounds like it wasn't all smooth sailing in those early years.
Back in 2011, Scott spoke to Vulture about his big break playing Griff Hawkins on Season 2 of the teen series, and how it wasn't as comfortable for him on set as he might have wanted it to be:
"I always checked the message boards, which were still this kind of mysterious thing – and I remember reading someone posting that they were friends with the girl that played Topanga (Danielle Fishel), and Topanga had told this person that no one at the show liked me very much. And I remember just being crushed, but it also all kind of made sense, because I was definitely on the outside of whatever was going on there. They were all friends and I was just kind of there and would hang out with Blake (Soper) and Ethan Suplee. I didn't know if it was real or not, but kind of felt like it was… The Internet or these message-board things were still kind of small enough that it felt genuine. And sure enough, the next episode they wrote me off."
So when the Severance star stopped by the podcast, his former co-stars and the current podcast co-hosts Fishel, Rider Strong, Will Friedle had to ask about this interaction.
Scott retold the story, and Fishel denied there was any truth to that message board gossip.
"For one thing, that just wasn't true," she said. "Nobody didn't like you — that was not the situation. The second reason was because I didn't talk about Boy Meets World at school. If someone asked me a question, I would, but it wasn't super cool to be gone from school all the time."
Scott also brought up a painfully awkward hug rejection from Strong at the wrap of Season 2.
"The scene ends, everyone just erupts and starts cheering," Scott explained. "Blake and Ethan high-five and hug, they come up to me and high five and are just cheering… Then Blake and Ethan go up to you, Rider, and give you a high five and hug you and after they do that I'm like, 'hey, congratulations, buddy,' and give you a high five and go in and hug you, and as I do that — you push me off and you give me this look like, 'Wait a second, who the fuck are you?' and then you ran away."
Strong had zero memory of the incident, unsure why he would have rejected his hug attempt.
"Oh my god, no!" Strong exclaimed. "And that actually doesn't sound like me at all because I'm generally a hugger!"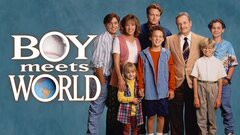 Powered by