'Frasier' Revival Casts Daphne & Niles' Son & 2 More
As the Frasier reboot inches closer to airing new episodes of the beloved sitcom on Paramount+, some new cast additions have been revealed.
Playing Daphne and Niles' son David, who was born in the series finale of the original run, is Anders Keith. Another new edition is Jess Salgueiro, who plays Frasier and Lilith's son Freddy's roommate, Eve, according to Deadline.
The series will feature a new young cast alongside Kelsey Grammer, who is reprising his role as the psychiatrist turned beloved radio host Frasier Crane. Just as the original series saw Frasier off to a new city facing new challenges, so will this version. The new city hasn't been announced, and details are not yet available around his career change, if any. But what we do know so far points to a university setting being likely.
Keith's David is "an awkward college freshman with a penchant for off-kilter observations" and is said to have "Niles' intelligence, Daphne's smile, and neither of their polish. David's unearned confidence may confuse some, but Frasier has a fondness for his nephew's earnest enthusiasm."
Another Frasier new edition is his British college friend Alan Cornwall (Nicholas Lyndhurst) a university professor — making the campus theme even stronger.
The finale also revealed that Daphne and Niles would have two daughters, but it is unknown yet how large a role they will play in the new series, considering David Hyde Pierce is not planning to reprise his role in the series.
Salgueiro's Eve is described as "spontaneous, outgoing and bursting with creative energy whether it was asked for or not." She's "a breath of fresh air. With an innate ability to connect with both Frasier and Freddy, Eve is a critical bridge between father and son as they attempt to reconcile."
Sounds like some drama has unfolded between father and son in the passing years.
Frasier, TBA, Paramount+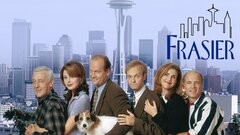 Frasier
where to stream
Powered by