Amazon Studios Announces New Animated Series 'Mighty Nein' (VIDEO)
The Powers That Be have spoken, and it's their turn to roll. Amazon Studios, which produces the acclaimed animation series The Legend of Vox Machina, announced today that it would be expanding the world of media company Critical Role with a multiyear exclusive television and first-look film deal. Up first in the newest content to be produced by the streamer: Mighty Nein, a brand new animated series based on Critical Role's second campaign of the same name.
"With the success of our animated series The Legend of Vox Machina, we are looking forward to continuing our relationship with Critical Role and expanding its universe with Mighty Nein," Vernon Sanders, head of global television, Amazon Studios, said in a press release. "Expanding these iconic franchises for our global Prime Video customers continues to be an ambitious and rewarding journey and we are eager to see where this new series takes us."
The Mighty Nein began airing on Critical Role's Twitch and YouTube channel in early 2018, culminating in 151 episodes of gameplay before ending in June of 2021. Similar to the first Vox Machina campaign, the story followed a group of seven misfit adventurers with complicated pasts and relationships, who were the only ones that could prevent the kingdom from plunging into chaos when an arcane artifact capable of reshaping reality fell into the wrong hands.
"Critical Role's livestream campaigns are the spark that lit the flame for our worldwide audience," said Travis Willingham, co-founder and CEO of Critical Role. "Seeing the stories and characters from our first campaign come to life in The Legend of Vox Machina was a dream realized, and we are absolutely buzzing with excitement to do it again with Mighty Nein. But with today's announcement, we're confident that the stories we tell will keep expanding into realms of entertainment beyond what we can even imagine."
The Legend of Vox Machina, developed in partnership with the animation production company Titmouse, debuted in January 2022 to both critical and fan acclaim and is currently in the middle of airing its second season. A third season was officially announced at this year's New York Comic Con and is in production.
Mighty Nein will be executive produced by Tasha Huo, Sam Riegel, and Willingham alongside Critical Role's production banner Metapigeon and Amazon Studios. From Titmouse, Chris Prynoski (The Legend of Vox Machina), Shannon Prynoski (Fairfax), Antonio Canobbio (Arlo the Alligator Boy), and Ben Kalina (Big Mouth) will also executive produce. Production on Mighty Nein will begin soon.
Watch the teaser trailer above and prepare for an all-new adventure, coming to Prime Video.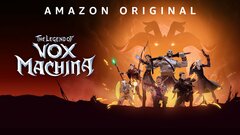 Powered by