Find Out Which Original 'Power Rangers' Stars Are Back for 30th Anniversary Special
Mighty Morphin Power Rangers made its debut way back in 1993, instantly becoming a hit for the after school crowd. Thirty years later, Netflix has put together a special honoring three decades of a television franchise that remains in the hearts of those who grew up with it.
The special, subtitled Once & Always, is making waves for bringing together some of the original cast, including Blue Ranger Billy (David Yost) and Black Ranger Zach (Walter Emanuel Jones). Joining them from Season 2 will be Steve Cardenas who played the second Red Ranger Rocky, and Karan Ashley who played the second Yellow Ranger Aisha, along with Johnny Yong Bosch who played the second Black Ranger Adam. Season 3's Catherine Sutherland, who played the second Pink Ranger Kat, is also returning.
Some very sad absences from the original cast include original Yellow Ranger Trini, played by Thuy Trang, who died in a car accident at only 27 in 2001. Original Green Ranger Tommy was played by Jason David Frank, who passed away in November. No word yet if they will pay tribute to the late actors, but Trini's character will live on in the show via recent addition Charlie Kersh, who plays her daughter, Minh.
Original Pink Ranger Amy Jo Johnson appears to be missing from the reunion.
Some important voices from the original series will also appear, with Barbara Goodson, who voiced villain Rita Repulsa, and Richard Horvitz, who voiced their AI helper Alpha 5, also confirmed.
Yost told Entertainment Weekly he loved being among old friends and back onset of the series that changed his life: "We went through the audition process together and launched the Power Rangers franchise. It was such a surreal experience to be on the set of Power Rangers again after 28 years."
Watch the new trailer below:
Mighty Morphin Power Rangers: Once & Always, Special Premiere, Wednesday, April 19, Netflix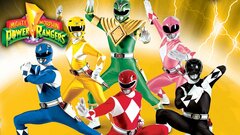 Powered by