'Abbott' Fundraiser, 'Home Ec' and 'Big Sky' Finales, 'grown-ish' Returns, 'Dirty Old Cars'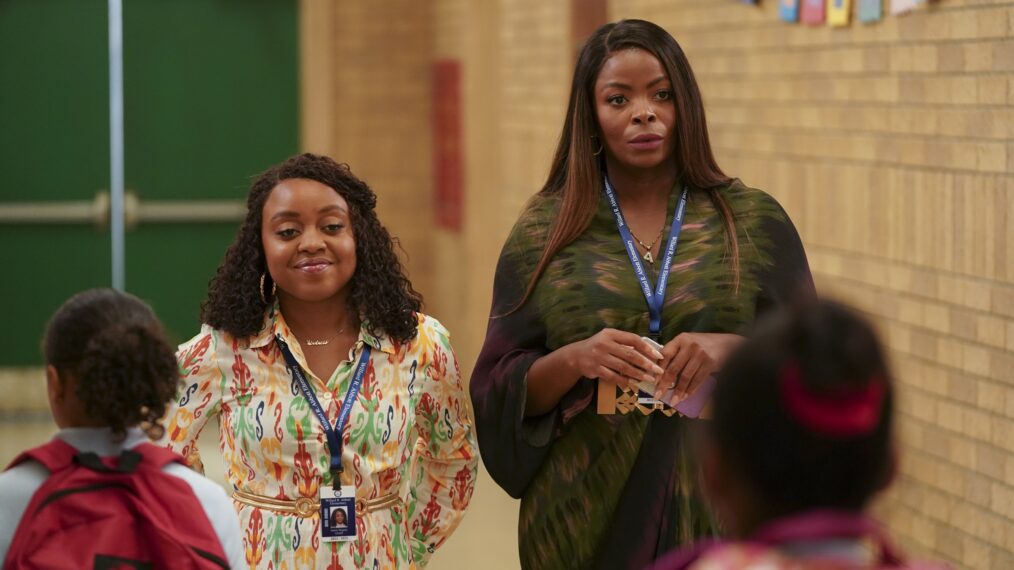 Abbott Elementary
Underdogs no more, the otherwise underappreciated teachers of Abbott Elementary are worth their weight in awards gold, collecting trophies at the Golden Globes and the Critics Choice Awards most recently. The latest episode promises to be a fun showdown between Barbara (multi-award winner Sheryl Lee Ralph) and principal Ava (Janelle James) when the kindergarten teacher's fundraising effort to sell candy for a museum field trip goes bust. The outrageous Ava has her own marketing methods and is more than willing to step in. Elsewhere on the school grounds, Jacob (Chris Perfetti) clashes with Mr. Johnson (William Stanford Davis) over the fate of a cat found in the janitor's closet.
Home Economics
The comedy making light of socioeconomic family ties reaches the end of a shortened 13-episode third season, with the Hayworths trapped under one roof with no distractions after a power outage leaves them stranded. What better opportunity for soul-searching, as each examines their own lives and family relationships.
Big Sky
The vibe is more intense on the Montana-set thriller, wrapping its third season with a showdown between the Bleeding Heart Killer, who has taken Denise (Dedee Pfeiffer) and Emily (Cree Cicchino) captive, and Emily's dad, sheriff Beau (Jensen Ackles), with Jenny (Katheryn Winnick) by his side. And don't expect Reba McEntire, as the embattled Sunny, to leave Big Sky behind without making one last fiery gesture.
Grown-ish
The college-set black-ish spinoff continues its fifth season with Junior (Marcus Scribner) now a freshman at Cal U and big sis Zoey (Yara Shahidi) a graduate. As the season resumes, Zoey runs in to Aaron (Trevor Jackson), now teaching at the university, at the San Francisco airport, where they rehash the ups and downs of their long-distance relationship.
Dirty Old Cars
Bringing neglected autos back to their former glory is the mission of employees at detailing shops in Minnesota (Unique Classic Cars), North Carolina (Visual Perfection) and Georgia (Red's Detail Co.). Each half-hour episode features before-and-after reveals of these forgotten four-wheeled treasures, which the teams either buy, clean and flip or clean for hire. Whatever the goal, it's likely to inspire viewers to take a closer look at what's been buried under the tarps in their garage.
Inside Wednesday TV:
The Conners (8/7c, ABC): Can't they all get along? The answer on this family sitcom is usually a resounding "no." Which explains how Becky (Lecy Goranson) gets caught in the middle of the latest squabble between Darlene (Sara Gilbert) and Ben (Jay R. Ferguson) when they ignore her boundaries. Back at their old home, Dan (John Goodman) is furious at Jackie (Laurie Metcalf), whom he accuses of losing their home videos.
The Price Is Right at Night (8/7c, CBS): The audience is full of smartypants—mathematicians, an astrophysicist, a chess grandmaster, SAT whizzes—who are invited to come on down and focus their big brains on pricing games.
Nature (8/7c, PBS): In "Wildheart," the series examines the history of a single Scots Pine tree in the Scottish Highlands, where it has stood for over five centuries.
Trafficked with Mariana Van Zeller (9/8c, National Geographic): The investigative journalist launches her third season by exposing the international underworld of black-market organs.
Special Forces: World's Toughest Test (9/8c, Fox): The celebrity recruits face an extreme trust exercise when they learn to count on one another to break their fall from a harrowing cliff.
Chicago P.D. (10/9c, NBC): Detective Hailey Upton (Tracy Spiridakos) gets a surprise call from imprisoned sex trafficker Sean O'Neal (Jefferson White), who has some sensitive intel that could help the team stop a crime in progress.
Tough as Nails (10/9c, CBS): Season 3 contestant Quincey Walker, a diesel mechanic, returns to guide the crews through a series of auto service challenges.
Are You the One? (streaming on Paramount+): The global dating competition opens a new season in Gran Canaria, Spain, where 22 single men and women gather to decide which among them is their perfect match.
The Cupcake Guys (streaming on The Roku Channel): Pro footballers Michael Griffin and Brian Orakpo reveal how they transitioned from the Tennessee Titans gridiron to Austin, where they open a new franchise of the Nashville-based Gigi's Cupcakes.