'Married to Real Estate' Stars Egypt Sherrod & Mike Jackson on Season 2, Family Life & HGTV Rivalries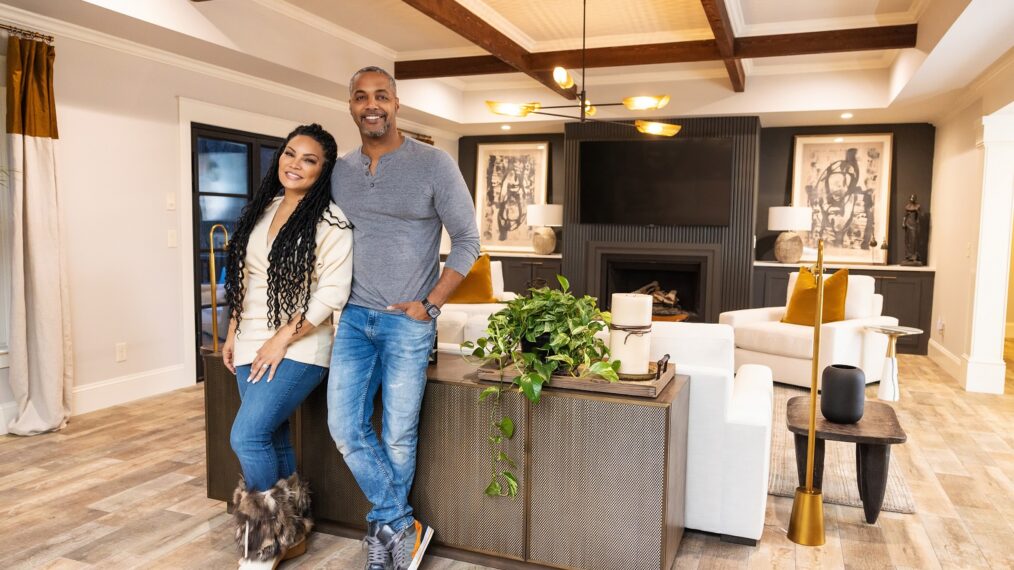 Egypt Sherrod and Mike Jackson of HGTV's Married to Real Estate are a one-two-punch of a power couple. Egypt is a savvy real estate broker who finds houses for clients. Then husband Mike steps in with his renovation and Jedi-like builder skills. No client stories are alike for the dynamic duo, but the objective is all the same. To help families see their vision of a dream home realized while still staying on budget.
For Sherrod and Jackson, the projects are getting bigger and more complex over the course of the 12 episodes of the upcoming season 2. Cameras not only follow the two on the job but at home as they manage being parents to three children.
"People can relate if I'm pulling my hair out on a Saturday morning trying to work a deal with my kids screaming," Sherrod said. "We're one of those people if you see us in the supermarket, you can come up and say hi. We don't get the people screaming and asking for autographs. We get the folks who come up to us to have a 45 minutes conversation about potty training. We love that."
We sat down with the busy couple to talk about finding that work-life balance.
How would you say your dynamic has evolved from the first season into this one?
Egypt Sherrod: Everything has grown bigger. Our business has gone bigger. Our opportunities are bigger. The budgets are bigger. There is more pressure. I think if anything we found more ways to laugh. Laugh at each other and roll with the punches.
Mike Jackson: I think where our dynamic has grown is in our communication and understanding. During one episode in season 1, you'll notice she did not want me to design at all. "Stay in your lane!" What we've come to understand is if I have an idea I just have to work it out and discuss it.
Egypt: There are no lanes. We all drive on a four-lane highway.
How is it finding the balance as colleagues and husband and wife?
Mike: We do create space where we do give ourselves time. Monday it can turn into let me take the kids, enjoy yourself, and vice versa. Then we continue to date each other. We go on dates where we don't talk about business at all. We got remember to be in love and lovers and not just partners and parents.
Egypt: Just making that in the forefront of our minds that if we don't work, nothing else works. We have taken those times to recalibrate. I genuinely like this guy I married too, so that helps.
Tell me about how you've overcome the challenges of the time this season. Whether it's the ever-fluid nature of the real estate market or inflation with rising costs of materials and maybe delays or lack of supply?
Egypt: I've been in real estate for over 20 years. What I've learned is that it's cyclical. There will be highs and lows, ups and downs. As a real estate professional, it's part of my job to calm the waters with clients and be creative when it comes to making deals work. Having clients win homes in extremely competitive markets. How do clients sell homes with people afraid to buy homes because interest rates are so high? It doesn't shake me. What people need to realize is we're in that cycle. We've been here before. Interest rates are high, but guess what? If the numbers still work then it's always a good time to buy real estate.
Mike: When it comes to inflation and supply chain issues it actually has made me stronger in strategizing, planning, and making sure I stay in touch in my relationship system. I mean your mom-and-pop supplies, big box chains not as big as the biggest ones. Staying in communication with them just in case I can't get something in time I can reach out hopefully instead of going abroad or getting creative with things and making it so the client understands they want X, Y, and Z, but it costs this much so we can't get it. Let's be creative using a different product.
Egypt: Last season we were in the heart of the pandemic. We're still able to film and work and there were demand and supply chain issues then. Now on top of that, everything is just astronomical. So the best thing we can do is be communicative with clients. They are getting hit with inflation from the supermarket to the gas pump, so this isn't a surprise. Everything will cost 30% more. However, that is how we can offset it and give you that look for less. Give you that look you're looking for while still trying to stay within your budget.
You're Rock the Block champions. Do you feel there is a general rivalry with other couples like the Marrs', Napiers, etc.?
Egypt: We have a rivalry, but it's all in fun. Honestly, on our season in Charleston, Mike and Dave Marrs had a bromance. They were competitive, staying up all night on projects. Both of them had those table saws set up in the front of the house and they'd be looking at each other. Ultimately, we developed a good friendship. We stay in touch. We've developed a huge respect for the creativity and brilliance that went into the other team members. We won and are grateful and put a lot into it. But we were nervous. We were on eggshells because everyone rocked it.
Mike: What you don't get to see is although everyone is there to present themselves creatively and win, behind the scenes we are having fun and enjoying each other. But then they say action then it's like okay, here we go.
Is there a favorite show you all like to watch yourself?
Egypt: When we watch our network. I love Renovation Island. They are so creative and family-oriented. David Bromstad reminds me of my best friend Andre so much. I enjoy watching him. It's appreciation across the board how the personalities shine through now on HGTV. You get a sense of who they are, what they stand for, and what their strengths are.
Along with the home projects, viewers also get to see your family life. There look to be some big milestones for the kids happening this season.
Mike: You're going to see Harper try to get into being able to be into preschool. Kendall wants to be a little more responsible by earning money for chores.
Egypt: Harper is getting potty-trained. Big girl. You'll see the business grow as well. You'll see the competition between Mike and me specifically. We're competitive with one another now.
Your first project right out of the gate is changing the layout of the house and event whether through roof issues. Do you feel this sets the tone for the big projects to come?
Egypt: Every project is so different. We had clients with only a $50-$60,000 budget, which last season may have gotten a lot. With the cost of everything now, you'll see a lot of DIY. You'll see me get creative solutions design-wise and keep them within budget but be cutting-edge. You'll see Mike do pretty much an entire house. It started out being the first floor until wow, pretty much the whole house. You'll see roofs come off, the entire floor plans change on the interior, and front facades, which we didn't focus on before or had projects that did last season…You'll see a lot of outdoor scapes as well.
Mike; You'll see a lot of reasons we tell clients to have a buffer for any instances.
Egypt: Yes, because a lot of things came up, unfortunately. For the first two quarters of 2022, people were throwing money just to get into a house. The problem, when you do that, is once you get into the house it becomes, did you buy a house that was a lemon? You'll see how people truly really are navigating all that.
Married to Real Estate season 2 premiere, January 12, 9/8c, HGTV (Same Day on discovery+)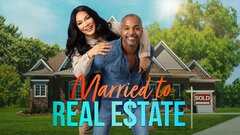 Powered by