'Alert: Missing Persons Unit': Why Scott Caan's Doing Another Procedural After 'Hawaii Five-0' (VIDEO)
It's been nearly three years since we last saw Scott Caan on a procedural drama — Hawaii Five-0, for 10 seasons — but he's back in the same genre in his return to TV with Alert: Missing Persons Unit, Fox's new pulse-pounding drama premiering on a special night, Sunday, January 8.
"When I read it, it didn't read as a procedural. I know I've been tricked," Caan laughed when he stopped by TV Insider, as you can see in the video above. "It was really about the characters. It was really about this relationship between Dania [Ramirez] and my characters and our missing son and her new fiancé and the people that she works with."
Alert: Missing Persons Unit follows exes Jason Grant (Caan) and Nikki Batista (Ramirez) as they work to do what couldn't be done for them: bring loved ones home. Their son went missing six years ago when the action picks up in the present-day, and ever since, their marriage deteriorated and both have new significant others. And Jason's been trying to figure out everything about his life — even after they receive a possibly proof-of-life photo of Keith.
"My character's kind of a mess," Caan admits. "I think certainly what happened losing him sort of ruined my life and I think it's now ruining my life, but I'm trying to figure out how to un-ruin my life, you know?"
Like Danny on Hawaii Five-0, Jason is in law enforcement and a father, but the two characters are very different. "Danny definitely didn't have the issues that Jason has, definitely was real set on what he wanted," Caan says. "In [Alert: Missing Persons Unit], I have no idea what I want." And when it comes to being a father, "my character could just in theory bail at any moment."
That's why, he adds, "I don't think Danny would want any of Jason's qualities and I think that Jason could use a lot of Danny's qualities."
Watch the full video interview above as Caan shares more about his character, including about the relationships in his life, and whether we'll see him get in on the action.
Alert: Missing Persons Unit, Series Premiere, Sunday, January 8, FOX (Time Period Premiere, Monday, January 9, 9/8c)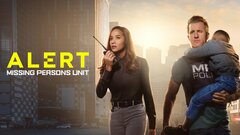 Powered by