'Law & Order: Organized Crime': Will Jamie Going Undercover Change His Dynamic With Stabler?
Can Detective Jamie Whelan (Brent Antonello) handle the pressure of going undercover? That's the question for the January 5 winter premiere of Law & Order: Organized Crime.
In "Trap," one of Detective Elliot Stabler's (Christopher Meloni) informants turns to him when his wife is kidnapped by a rising gang based out of Miami. They want to take over New York and are running drugs, using street racing nights to recruit the best drivers. "Bell and Stabler read Jamie's file and they find out that he was a stock car racer back in the day, and they use those skills that he has to do a deep dive and try to infiltrate this Miami gang," Antonello previews.
But while we've seen Stabler and Detective Bobby Reyes (Rick Gonzalez) go undercover, this is new ground for Jamie. "[He] hasn't been faced with this kind of pressure, especially as an individual by himself. Usually, it's been with Elliot or Bobby or anyone else," Antonello says. "But he was a golden boy in the department when he was with the NYPD and now he's on the All-Star team if we want to call it that. So he hasn't really been in these situations."
So while he's a great detective, there is the question of if he'll be good undercover. "Possibly," according to the star. "He knows he can do it, but how does he react to that pressure? I think that's what we see [as well as] maybe the tips that he gets from Elliot and stuff like that."
But what's exciting for Antonello about this episode is that "the main thing that I would say of him going undercover and accepting this job to go undercover is acceptance within the group, especially with Stabler. He knows what he's done in the past. He knows how he operates, and Jamie operates in that same form, just a little bit, that gray area. He likes to push the boundaries. He likes to be the wild card, do anything, if you will, to solve the case or make the arrest."
And we did just see Jamie and Stabler get into it a bit in the fall finale when the entire task force was trapped in a building with Robert Silas (John Doman), who was willing to make a deal for the information he had. "Maybe that carries over a little bit," Antonello says. "Jamie sees that in Stabler and now sometimes when he gets reprimanded for it, it's just like, 'dude, but this is you. I look up to you because of this. Let's get the job done.' So yeah, there's that cool dynamic going on, which is fun to play."
Law & Order: Organized Crime, Winter Premiere, Thursday, January 5, 10/9c, NBC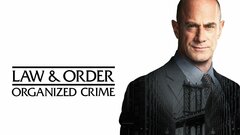 Powered by