'The Resident': What's Next for Conrad & Billie After That Kiss? (RECAP)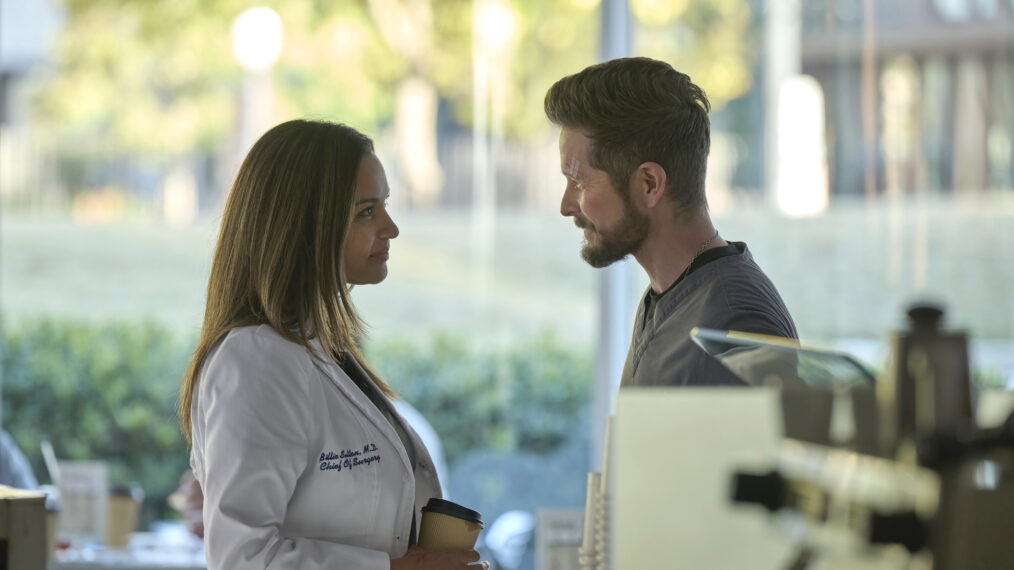 All In
Season 6 • Episode 11
[Warning: The below contains MAJOR spoilers for The Resident Season 6 Episode 11 "All In."]
If we had to describe where The Resident goes with Dr. Conrad Hawkins (Matt Czuchry) and Dr. Billie Sutton (Jessica Lucas) after that fall finale kiss, it would have to be "inevitable." But don't feel too bad for Dr. Cade Sullivan (Kaley Ronayne), who does find out what happened between her (ex-)boyfriend and his late wife's best friend — she might not be alone for long.
Upon returning from visiting her father, Dr. Ian Sullivan (Andrew McCarthy) in rehab, Cade admits she lied about where she was to Conrad. To her surprise, he's not upset, just focused on what means for her and her dad. But that's also because he has his own confession to make: "I haven't been honest with myself or you, about my feelings for Billie." She asks if something happened. "I kissed her," he says. Though he wants to talk about it, she'd much rather leave. He insists he wanted things to work out between them and he didn't know how he felt about Billie. "Everybody else did. Literally, everyone," she tells him and accuses him of being only "half-in" with her.
Cade, later, understandably, has Conrad talk to Billie about the transfer of one of her ICU patients. And after that, Conrad is more than happy to consult on a patient for Dr. Devon Pravesh (Manish Dayal). "Distract me," he practically pleads. Devon's not surprised: "We all knew it was coming. .Kit and Bell's wedding, everybody saw it." And again, Conrad is left with the feeling of "everybody but me."
But hey, Conrad and Billie are very happy about this turn of events, though she is avoiding talking to James (Ian Anthony Dale). Conrad knows they could've done this in a cleaner way, but it happened "and we are going to do to this right from now on." (That means she has to talk to James.) "I don't love how we got here, but I am so happy we are here," Conrad tells her. So is she.
James isn't the only one Billie has to talk to, though. She finds Cade to give her the chance to get what she's feeling off her chest, especially since she hopes they'll be working together for a long time. Neither of them saw it coming, Billie insists, and she doesn't deny that she's been in love with Conrad the entire time Cade has known them, but she never had any intention of taking him from the other doctor. Cade brings up their dance at the wedding, and Billie explains it was unplanned and she's not the kind of person to swoop in.
But Cade likes her (even if she wishes she didn't) and knows that no one does the swooping in situations like this; rather it's a two-handed game. What she doesn't need to hear is Billie saying Conrad's not responsible for feelings he couldn't fight or face. Still, Cade tells her, "I will survive because I know what I deserve. I deserve someone who loves me, not someone who's working overtime to deny they love you." Furthermore, she adds before leaving, that "Hawkins" — note the use of his last name! — never told her he loved her. Was this the most mature scene we've ever gotten between two parties in a love triangle with another person on a TV show?!
James, too, is levelheaded about the whole thing, even as he faces his mentor possibly dying at Chastain. He also knows exactly what Billie is there to talk about when she finds him. It was fun while it lasted, but his heart's intact, he assures her.
And with that, Conrad and Billie are free to be together and leave the hospital holding hands and smiling. As for their exes … Cade finds James after his mentor dies, they acknowledge they're part of the same club, and she invites him out for drinks, which he accepts. Is it weird that we're kind of OK with them as a couple, even though we usually hate the "wrong" love interests getting together?
Elsewhere, Padma (Aneesha Joshi), last seen standing on a bridge, steps down after getting a text from her twin sister, Dr. Leela Devi (Anuja Joshi) and goes to her for help. Leela and Devon take Padma to the hospital, where she's evaluated for postpartum depression. She'll be moved to a place that specializes in it, Leela explains later, with the sisters admitting they can't be without each other. Padma brings up the babies, and Leela gives her an update before assuring her the worst is over and she's in the beginning of her recovery.
After the babies' father, Dr. AJ Austin (Malcolm-Jamal Warner), has finished an important, risky surgery, Leela tells him what's been going on with Padma. She doesn't want to face him because she's ashamed, she says of her sister, but she's certain that once she's better, she'll be there for the twins. AJ has his concerns, but Leela insists that Padma just needs their support.
Meanwhile, Dr. Kit Voss (Jane Leeves), as CEO of Chastain, reveals that they're closing the ER to trauma at midnight, due to their tight budget. Funding comes from the governor's discretionary funds, so they're at his mercy, meaning it's no use to try an emergency appeal to the state assembly. But it's not just that they're losing the helicopters on the roof and the trauma team won't be activated; this also means fewer staff and worries about what's next.
Though at first Kit says the fight's over — after which AJ points out that whatever happens, even if the whole place shut down, they created something great together and that will live on — she changes her mind after Conrad brings her to talk to a patient. The woman fought off a purse thief, and as she puts it, "You can't let some jerk just take what belongs to you…when I know what's right, I'm all in."
And so it's not just Conrad and Billie going "all in" on their relationship. Kit brings dinner down to the ER and announces that they will not be closing their trauma center. (Nurse Hundley then makes a call to say "just kidding," they'll take a gunshot wound.) What changed? "I did. I've decided we will not let a bully destroy us piece-by-piece," Kit explains. "He cannot win. We are going to spend every dime to deliver top care until the money's gone. We're not going to limp along as a hollowed-out shell. We are going all in."
The Resident, Two-Part Finale, Tuesday, January 10, 8/7c, Fox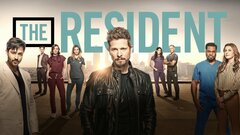 Powered by