'The Resident' Makes a Deal With the Devil, Plus Who Resigns? (RECAP)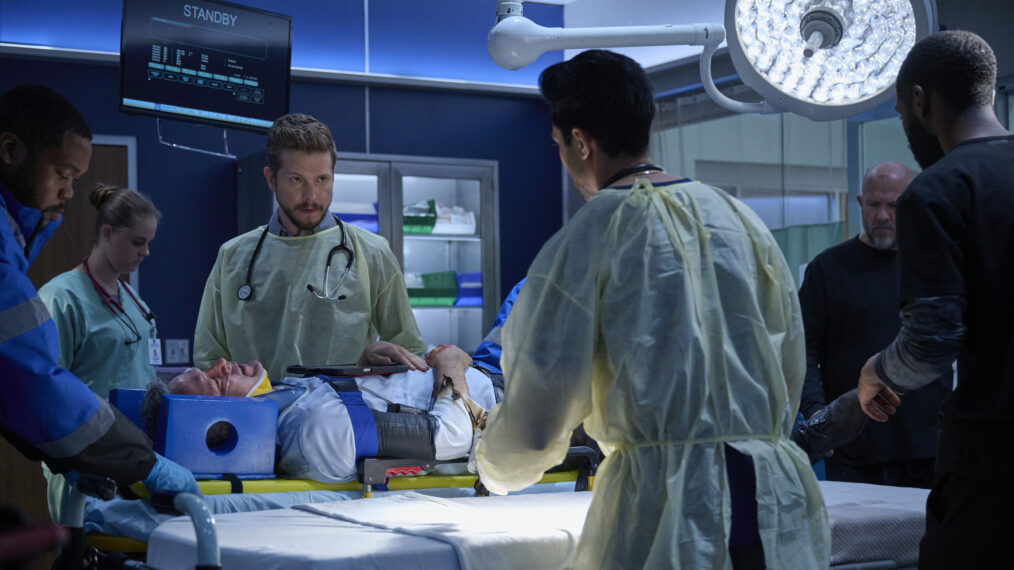 All The Wiser
Season 6 • Episode 12
[Warning: The below contains MAJOR spoilers for The Resident Season 6 Episode 12, "All the Wiser."]
"You can't be serious," Dr. Kit Voss (Jane Leeves) says upon seeing the report that Governor Betez's (Steven Culp) helicopter crashed blocks from Chastain. But as a result, The Resident's penultimate episode features a solution that may keep the hospital up and running — if the doctors are willing to make a deal with the devil.
Also in the hour, Ian (Andrew McCarthy) returns from rehab — [insert lie here] as he continues to keep it a secret from everyone except his daughter, Cade (Kaley Ronayne) — and Bell (Bruce Greenwood) gets some good news about his medical future, thanks to Devon (Manish Dayal). Plus, did The Resident just go from Conrad (Matt Czuchry) and Cade and Billie (Jessica Lucas) and James (Ian Anthony Dale) to Conrad and Billie and Cade and James successfully in one episode? Maybe.
A Deal They'll Probably Regret
Following the crash of his helicopter, both the pilot and Betz are seriously injured; she needs brain surgery, and it turns out he's hiding the fact that he's had a couple of heart attacks in the past. In fact, Betz's heart is in such poor condition that he needs a transplant — but it's not enough to put him at the top of the transplant list. Unsurprising, Governor Mark "Get me out of this place!" Betz, paranoid that the doctors of the hospital he's causing to shut down won't give him the proper care, doesn't take that too well. (We love Devon's "unfortunately, CT is all backed up. Due to budget cuts, we're a bit short-staffed" to the governor at one point.)
They'd love to transfer him to another hospital, but there isn't one with a bed since everywhere else has had to take Chastain's ICU patients due to the budget cuts. But Betz proposes a solution to AJ (Malcolm-Jamal Warner) that will help everyone: He'll save Chastain, restoring the money that's been cut from his discretionary fund if he's moved to the top of the transplant list.
To make that happen, AJ must insert an intra-aortic balloon pump, which does come with risks. Conrad can't believe AJ's willingness to compromise his ethics for Betz, but as the surgeon argues, "we have a chance to do a whole lot of good by doing just a little bit of bad." And if Betz tries to renege on their deal, AJ will release his medical records he's so keen to keep secret, HIPAA be damned. And the old Conrad? He'd tell AJ to go for it.
And so AJ and James — who'd rather not know all the details — perform the procedure. Kit and Bell aren't too pleased when they hear, especially since it's looking like the pilot's taking a turn for the worst and could die, meaning her heart could go to the governor when he was the reason she was flying in the first place in unsafe conditions. Fortunately, the pilot's going to make it.
Then, near the end of the episode, after a motorcycle accident, there may be a new heart for the governor. Kit and Bell just hope they don't regret the deal they've made with him.
Ian's Choice
Back at Chastain (but not back at work yet), Ian's struggling with what to tell Kit, he admits to Cade. He has to come clean, he knows, though part of him would like to resign, keep his addiction a secret, and work somewhere else. Telling the truth could lead to the end of his career. Ian says he will tell Kit … but then he walks into her office.
Instead, after hesitating, he says he has a personal issue that he needs to take care of, and he can't do that working the way he used to. Kit offers to let him work part-time, but he resigns. He loves it at Chastain, being near his daughter and the culture Kit has created, but he doesn't see any other way around it, Ian says. When Cade finds out, she says she understands, and he promises to make everything up to her.
Bell's Hope
Bell's home again, and Kit's eager to get him back in the OR, but he's not so sure he's ready. With the new treatment for his MS, his muscle weakness is lessening, and he hasn't had any tremors lately. But "I'm your wife," she reminds him. "I know when you're not telling me something." He wants to wait before jumping back into surgery because the treatment isn't working like before.
But maybe phase 2 of Devon's clinical trial is just what he needs. The only problem? Devon needs funding, and the only way to get that right now is to work with Marco on his longevity study. He's not so sure, but Leela (Anuja Joshi) points out it's for the greater good. And even though Marco can tell that Devon has his doubts, he doesn't see anything wrong with the two of them needing each other for the gains they each want. And so with that, phase 2 is a go, and Bell qualifies!
Smooth Romantic Transitions
Feldman (Tasso Feldman) remarks, "it's like musical chairs around here," when Cade and James, then Conrad and Billie walk into the ER. But hey, everyone's happy!
The episode opens with the morning after for both couples. "Last night was amazing," Conrad and Billie agree. And though they know it's "weird to say," it "feels right."
Meanwhile, James comments on the "pros to getting dumped at work" as he and Cade get dressed, and he decides to ride into work with her to have an excuse to return with her after work. As he later says to AJ, "I think everybody ended up right where they ought to be."
It Won't Be the Flu
When Conrad and Billie pick Gigi up from daycare, she's looking forward to seeing Sammie (Chedi Chang), Bell's granddaughter, again. But on the plane with her dads, Jake (Conrad Ricamora) and Gregg (Christopher J. Hanke), Sammie's not doing well. Her stomach hurts, and she has a fever, but there's no way it's just the flu.
The Resident, Season 6 Finale, Tuesday, January 17, 8/7c, Fox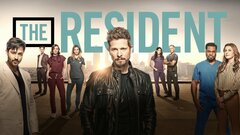 Powered by