Steve Martin Is Martin Short's Puppeteer in 'Saturday Night Live' Promo (VIDEO)
Only Murders in the Building stars Steve Martin and Martin Short are getting ready for their big Saturday Night Live return in a new promo for the episode airing December 10.
Co-hosting together for the first time in more than 30 years, both Martin and Short will appear alongside the episode's musical guest Brandi Carlile and the NBC sketch comedy's ensemble cast members. In anticipation of their appearance, the promo follows Steve Martin as he takes the elevator at 30 Rock up to the studio floor.
He drags a metal case alongside him and with each bump, little squeals sound from the box. When he walks up to the main stage, he lays the case down and opens it to reveal Martin Short in the form of a ventriloquist dummy. "Water, I need water," Martin Short begs, his little puppet arms flailing.
Steve Martin complies with the request, pouring the beverage into his companion's mouth almost choking him in the process. Just when you think he might retrieve his puppet friend, Steve Martin is approached by new cast member Michael Longfellow who says, "Hey, hi, it is such an honor. I'm so excited to meet you two."
From the case, Martin Short says, "Likewise, big fan." That is until Steve Martin shuts the lid on his case. As Longfellow continues to hurl praise in their direction, Steve Martin cuts him off requesting, "a green tea with extra ice." Longfellow clarifies that he's a cast member, but that means little to Martin who is insistent about the tea.
Once the new cast member leaves, Steve Martin turns to the case, opens it up, and pulls the Martin Short puppet into his arms. "Hi, I'm Martin Short, and Steve and I are so excited to be hosting Saturday Night Live this week with the great Brandi Carlile," he excitedly exclaims before another interruption occurs. See the full segment, above, and don't miss Martin Short and Steve Martin when they host SNL together this December on NBC.
Saturday Night Live, Saturdays, 11:30/10:30c, NBC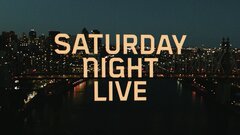 Powered by