The Walking Dead: Ready for Season 3's Bloody Showdown
Abandoned cars, tattered clothes, busted baby dolls and plastic dinosaurs litter a graffiti-covered bridge spanning Senoia, Georgia's Yellow Jacket Creek on this sweltering August day. In the middle of the road leading to it, a horde of menacing walkers closes in on a helpless family trapped inside a broken-down hatchback, and The Walking Dead coexecutive producer and special-effects whiz Greg Nicotero is calling for more gore.
"I'm gonna need two more bodies and blood!" he yells to a production assistant as he dips his hand in a bucket and stirs the crimson concoction that will sub for brain matter. As makeup artists load the goop into a zombie "crush head," Nicotero positions himself under the vehicle and holds his creation against the driver's side window. Director Seith Mann yells, "Action!" and Norman Reedus (as Daryl Dixon) raises his crossbow and slams the butt into the prosthetic head. A bright red explosion splatters against the car window and drenches Nicotero from head to toe. Reedus steps back to admire his work and says, "I get to use my crossbow today, so I'm super happy."
The cast, producers and network all have reason to be super happy about the smash-hit zombie thriller. Season 3 premiered last October to a series-high 10.9 million viewers and continued to break records for AMC during its eight-week run, until the show was eventually crowned the top scripted series on all of TV in the coveted 18-49 demographic. After some fans voiced their displeasure over an uneven second season, enthusiasm about the creative direction became stronger than ever as Rick Grimes (Andrew Lincoln) and his band of survivors took refuge in the West Georgia Correctional Facility and viewers were introduced to the duplicitous Governor (David Morrissey) and his seemingly idyllic town of Woodbury.
Nothing, it seemed, could stop Dead's rise, until news broke in December that Glen Mazzara — who had replaced original showrunner Frank Darabont midway through Season 2 production — was leaving after Season 3 wrapped, owing to what AMC called "a difference of opinion about where the show should go moving forward." While Mazzara would not elaborate, he does say, "I've had a great time on the show. I'm just very excited to have been here, and I'm happy to look forward and figure out what comes next."
Both parties have described the decision as amicable, but Mazzara reportedly clashed with fellow exec producer Robert Kirkman, who created the Walking Dead comic book in 2003. The network was also criticized by showrunners Shawn Ryan (Last Resort) and Kurt Sutter (Sons of Anarchy), both of whom worked with Mazzara on FX's The Shield. "It's a real question now why good showrunners should sell to AMC," Ryan tweeted. (Current Dead writer-producer Scott Gimple will assume showrunning duties for Season 4.)
Behind-the-scenes drama aside, fans should rest assured knowing that the Feb. 10 midseason premiere picks up right where the December finale left off, with brothers Daryl and Merle Dixon (Michael Rooker) facing off in Woodbury's gladiator-style arena. "It would be a bad move to tease that out any longer," Kirkman says. "So we'll definitely answer everybody's questions and go from there."
The tension between the Woodbury residents and the prison posse is approaching all-out war, presenting a dilemma for Rick, who is clinging to his sanity after his wife died during childbirth, triggering a mental breakdown, complete with auditory and visual hallucinations. "It's a wrestling match that is very internalized, even with his very physical wrestling match with the Governor," Lincoln says. "If ever he wanted to try to take the prison or prey on Rick's weaknesses, the Governor couldn't have found a better time." The two men's long-awaited face-to-face showdown looms, but Lincoln teases that it "doesn't go in a way that is at all obvious."
As Rick attempts to reverse his descent into madness, evil tendencies are becoming more apparent within the Governor, who is hell-bent on revenge after holding off Rick's army in a shoot-out and suffering through a bloody brawl with Michonne (Danai Gurira) that resulted in the death of his zombie daughter and the loss of his right eye. "It is a strange thing to have to wear — it's brought a whole lot of problems for me," Morrissey says of his new eye patch and the attendant lack of depth perception. "He's literally a marked man now. He's not in a world where you have very nice plastic surgery to get over that. People have to carry their scars with them."
Along with those scars, the Governor carries new emotional baggage as he attempts to reconcile with Andrea (Laurie Holden), who is now aware of the skeletons in her lover's closet — not to mention the zombie heads in his aquariums. "Here is a man capable of being open and loving as well as cruel and blind to people's emotions," Morrissey says. "So [complicating Andrea's decision] is the fact that we've seen evidence that he's worth saving. There's somebody inside that is a good person."
This story was originally published February 5, 2013.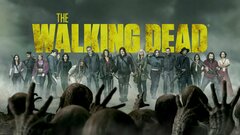 Powered by