'Law & Order: SVU' Celebrates 18 Years and 400 Episodes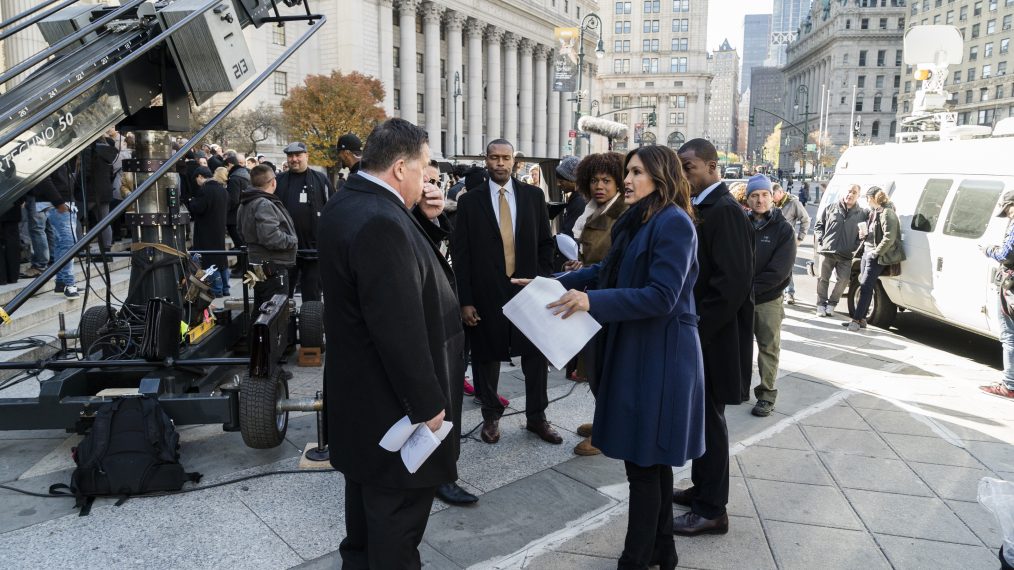 In the fall of 1999, Hurricane Floyd swept through the Southeast, Donald J. Trump announced his first run for POTUS—on the Reform Party ticket—and producer Dick Wolf launched his very first Law & Order spinoff, Special Victims Unit. Eighteen years later, Trump has finally won that coveted job, and SVU is the third longest-running live-action scripted show in TV history, after its progenitor and Gunsmoke, both tied at 20 seasons. On February 8, the beloved procedural will air its 400th episode as it inches closer to Law & Order's grand total of 456. (Gunsmoke holds a record at 635.) Not bad for a show whose intro touts a focus on "especially heinous" sex-based offenses (one early review stated it featured "crimes that will have the cops and viewers holding their stomachs").
RELATED: Law & Order: SVU Celebrates Its 400th Episode With Mariska Hargitay and TV Guide Magazine (PHOTOS)
Delicate constitutions aside, SVU's longevity and continued sturdy ratings have been propelled by what cast member Ice T—who's been playing Det. Fin Tutuola since way back in Season 2—cites as "a whodunit format that offers a chance for fans to play detective each week." And that audience is not exactly who you'd expect. "We're seeing a whole new generation rediscover the show on streaming [services like Hulu]," says NBC Entertainment President Jennifer Salke. "Our audience is getting younger year to year, which is incredibly rare in our business."
SVU has also become cathartic for those who can identify with the show's long line of victims. "Unlike shows where the victims are all dead, viewers can relate to SVU because many of them, especially the women, have survived harassment or abuse," Ice T explains. "There's a message of hope for them—that you can not only survive this but that you can thrive," agrees the series' new exec producer, Rick Eid, who became showrunner in 2016 after years of involvement in the franchise. "That message is delivered with compassion by our show's lifeblood, Mariska Hargitay, and her character, Lt. Olivia Benson."
RELATED: Former Law & Order: SVU Co-Stars Reunite for the Holidays (PHOTO)
It is November 9, 2016, the day after Trump's electoral triumph, and Hargitay is celebrating one of her own: SVU's quadricentennial episode, "Motherly Love." "We knew that Mariska would direct the 400th," says Eid, "so we wanted material that would excite her and highlight her strengths as an actor and as a director. We found one that pits two strong women—both mothers—against each other. It's all about Benson's passion, compassion, intelligence and power, the things that Mariska has conveyed so well for 399 episodes."
The twisty installment focuses on the fateful moment when a 15-year-old (Aaron Sanders) arrives home after a distressing visit with his divorced dad. Hearing moans from the kitchen, he grabs a rifle and rushes in to find his mother, Nicole (Sarah Wynter), screaming for help. Panicked, Luke shoots and kills her attacker, who, it turns out, is his best friend. It's up to Benson and her team to determine whether it's a justifiable homicide by uncovering what actually happened in that kitchen.
On a townhouse set near Central Park, it's Hargitay's fifth time behind the lens, but the first time she didn't ask for an episode light on acting. "Today, I have three jobs, not only acting and directing, but also mom," notes the 52-year-old actress. (It's actually four, if you count an ongoing gig as executive producer.) On cue, Andrew, her 5-year-old son, is there to give her a cuddle. Her daughter, Amaya, also 5, has just waved goodbye and left with her nanny. (Hargitay and her actor husband, Younger's Peter Hermann, have another son, August, who is 10.) "Luckily, I'm good at multitasking. That's the whole point of being what you might call overprepared, because then you can fly."
Kelli Giddish, who plays brassy Det. Amanda Rollins, is on only her sixth season, but that qualifies as a professional lifetime for the actress, since her last two series jobs lasted a total of 27 episodes. "I feel so fortunate to have this opportunity to really make a character evolve," she says. Giddish's Rollins has passed through some dark times due to a gambling addiction and a bipolar sister, but also some good ones, like becoming an unexpected mom from a tryst with her old boss, Lieutenant Murphy (Donal Logue).
She's an old-timer compared to Peter Scanavino, who arrived in 2013 as the self-described "rough-around-the-edges" former Staten Island homicide cop Dominick Carisi. Like many New York–based actors, he had previously appeared on the show, as a criminal in the 14th season, and guest starred on Law & Order and two spinoffs: Criminal Intent and the short-lived Trial by Jury. Scanavino was more than nervous when he joined the cast. "The crew and actors were like family, and Mariska is such a presence," he says. "I think in my first scene, I could have benefited from being more relaxed." As for being directed by the woman who once unnerved him: "Mariska gets really emotionally involved, and that's great when a director goes on that journey too." Look for an ongoing arc in which Carisi, a recent law-school grad, decides his future in the unit: Will he stay or will he go?
While Carisi contemplates switching from police work to pursue law, Fin will finally consider taking the sergeant's exam he's been dodging. "He's Benson's right-hand man; he's got to step up," teases Hargitay. Ice T, a veteran of four previous Wolf projects—one in which he was memorably killed with a bowling pin—was running a record label in L.A. before being convinced to do four episodes. "And I've been here ever since," he says with a shrug. "People always ask how I can stay on one show this long. Well, the work environment is really mellow, Mariska's wonderful and everybody's so cool. We're a sitcom behind the scenes."
He admits that because sexual-violence survivors sometimes visit the set, he's wondered if the jokey atmosphere offends them. "We do take the subject seriously, but you can't have that heavy a mood on set; it doesn't work," he says. Sometimes called the set's Buddha, he jokes that it's "because I'm the oldest guy around."
Though the drama has turned over most of its cast and survived the losses of such favorites as Richard Belzer, Dann Florek and, especially, Chris Meloni's Elliot Stabler (more on him later), one keynote adapted from the original L&O has never changed: ripped-from-the headlines tales. They run the gamut of news-making events—everything from transgender bathroom disputes to the San Bernardino terrorist attack to Bill Cosby's sexual-assault allegations. Maybe too close in the case of a previously announced episode titled "Unstoppable," inspired by the president-elect's leaked "locker room talk" and the following sexual misconduct accusations against him.
"Dick Wolf encourages us to tell stories that are topical and socially relevant and give it our unique take," says Eid. "The challenge is how to infuse that relevance into a compelling crime show." While the so-called "Trump episode" may be shelved, the New York elite will continue to be high on the list of SVU miscreants trying to get away with, if not murder, then some chilling crimes. In January 18's episode, "Decline and Fall," a female bartender claims to have been raped during a party thrown by a well-connected retail-world family. And in March, the show tackles computer hacks when a suspect uses his tech skills to reveal secrets in the DA's office, and ADA Rafael Barba (Raúl Esparza) is among the victims.
"SVU helps us metabolize issues that are so prevalent in our society," explains Hargitay, who has earned eight Emmy nominations and a 2006 win for playing Benson. "Take 'Motherly Love,'" she says. "It's a story dealing with innocence, betrayal and mental illness, and it sheds light and clarity. That's why I am proud of SVU. It's much more than a show now." For the actress, it's a mission, culminating in her Joyful Heart Foundation, dedicated to fighting sexual abuse, domestic violence and harm to children.
Though she was developing another show in 1999, joining the Law & Order spinoff "was a gut thing, like when I met my husband," she recalls. "After reading the script, I was 1,000 percent sold. That decision turned out to be one of the greatest gifts of my life." How long that gift will keep on giving is to be determined, though if Ice T and Eid have their way, the show will stick around for 21 seasons in order to pass the mothership series.
Even after reported contract disputes over the years, the only time she says she contemplated quitting was when her on-screen partner of 12 years, Meloni, left. "I didn't know that I wanted to stay on the show. There was a special chemistry," she says about her still-dear friend, though she praises her current company to the hilt. So will Stabler make one final visit in the show's last days? "We have talked about his possible appearance in the show's final episode," she reveals.
Whenever that will be, the actress admits she doesn't want to see her longtime alter ego alone when the show—or her role in it—ends. "I want Olivia to be happy," she muses. "To find peace, joy, rest and, most of all, balance in her life." Her devoted fans, many of whom tell her they wished she had been the detective on their cases, could ask for no more. Except perhaps one more season.
Law & Order: SVU, Wednesdays, 9/8c, NBC @nbcsvu