The Rock's On-Screen Parents Talk Dwayne Johnson & Family Ahead of 'Young Rock' Season 3
The ascension of Dwayne Johnson in the world of pro wrestling and entertainment continues during Young Rock season 3. Those younger years are also fleshed out more as his parents Rocky and Ata Johnson, played by Joseph Lee Anderson and Stacey Leilua, experience their own trials and tribulations.
Rocky is looking to take his career to the next level, but a bad decision forever alters his career and the family's future. Ata is doing all she can to keep the household on solid ground while looking to realize her own aspirations in the business. Ahead of the premiere, we caught up with Anderson and Leilua to talk about what's to come for the couple and the weighted responsibility they feel in bringing authenticity to the people they play.
You work so well off one another. Did you feel that chemistry early on?
Joseph Lee Anderson: Stacey's great. It's awesome when you get on a show and have a genuine love for your castmates, especially when you are portraying a family. We really do feel like a family. That has definitely helped with the relationship onscreen. Straight from the test back before we started season 1, Stacey and I hit it off. It has been great.
How hands-on is Dwayne? How much feedback do you get from him?
Stacey Leilua: The best feedback we have gotten from him has been really praising the work we've done after episodes air. That is always nice to receive. It's nice to know we are on the right track.
Has he given you any words of advice?
Joseph: The original advice he gave was in season 1 where we had a good Zoom chat with him about his family, about what Rocky was like. The one piece of advice that I hold on to was that Rocky could make anyone feel like a million bucks and that you can do anything. So I've focused on that version of Rocky throughout the series.
Stacey: I think playing these characters that are so close to him and knowing what they mean to him. Of course, there is a lot of pressure. For me, it was about the process of removing myself from that sense of pressure and needing to get it right and focusing on who these people are and what drives them. I know what made it clear to me was talking to Ata. What was clear to me after talking to her and Dwayne was that she is a mom. At the end of the day, she wanted what was best for her child. They didn't have an easy life. They moved around a lot and dealt with these exterior forces, but at the core of it, she was just operating from a place of love in wanting what was best for him. That is what I've always maintained. The core of the character. That hasn't changed.
Rocky Johnson is no longer with us, but Ata I'm sure has been an invaluable resource.
Joseph: Ata has been great just with her feedback. She has said, "You remind me so much of Rocky. You got that smile." She has such a love for the show and for us.
Rocky makes the decision to take a booking in Saudi Arabia outside the WWE, which doesn't really sit well with Vince McMahon as a contracted performer. That decision really impacts career and family. What can you tell us about where Rocky and Ata's relationship goes this season?
Joseph: I think you're going to see just how much of a glue Ata was with this family.
Stacey: We're about halfway through filming this season, but what I find interesting is the way the writers have worked that into the show. It brings them together, at least at the beginning. Ata is the glue. That includes standing by her man. She sees it as an obstacle and thinks about how to overcome it. How do we work this gimmick and make it best for all of us and move on? I really do like what Rocky and Ata end up doing after the Saudi Arabia stuff. We see them having each other's back and being this force. It's nice to watch. I think also for people who know where they end up, it's nice for them to have this moment. They shine together.
There are moments Rocky could be in the running for father-of-the-year and other times where he drops the ball. What can you say about Rocky's relationship with Dwayne?
Joseph: I think deep down Rocky always wanted the best for Dwayne. That's why you can see in the second season that he didn't want him to wrestle because of what happened to his career. He didn't want him to go through that, but Rocky was very supportive once Dwayne grew into it. There is always love there. There is a great episode coming up between Rocky and teenage Dwayne. There is a little headbutting there, but ultimately it's going to be a good one to show that relationship.
At the same time, Ata is a daughter, wife, and mom, but she is also dedicated to carrying on the family business.
Stacey: We saw her get passed over in the business season 2, which was a cliffhanger with Lars Anderson. We move into her working with Lars Anderson, who she kind of hates. That makes it interesting to watch. That moves into where you see her progression through the business and trying to come out on top while keeping her integrity in place. The wrestling world is something that she has grown up with and is familiar with. It's nice to see her work her way through that and pull some shots in a man's world.
Stacey, have you gotten in the ring and taken a bump yet?
Stacey: It's funny you say that. Back in season 1 Chavo [Guerrero] was training the boys and was waiting around for hair and makeup. He is like, "Want to have a go?" I thought, "Yes!" I jumped in the ring, and I swear all I was doing was running the ropes. I thought, "This is cutting into me." From that moment, I have even more respect for these guys and what they have to do because I wasn't even doing anything. Hey, who knows? I keep joking with the writers that maybe there is a dream sequence where Ata ends up in the ring fighting someone.
Joseph, talk a bit about the wrestling scenes we're going to see…
Joseph: This season is more focused on Rock's wrestling, so Uli's [Latukefu] wrestling. I do a little something something, but you're definitely going to see less and less of those purple trunks.
Are you happy about that?
Joseph: No, because I've gotten in such great shape this season. I got so lean and want to show it.
If you were wrestling today, what would be your persona?
Joseph: I would be the Copycat. Every night I would come out and be a different wrestling persona and use those signature moves from everyone. Each time you'd get someone different. You'd never know who you're going to get.
A big part of the present-day story is Dwayne failing to win the presidency, how do you really think The Rock would do as president?
Joseph: He would be the People's President. He would do great.
Stacey: I say bring it because it would be awesome.
Young Rock season 3 premiere, November 4, 8:30/7:30c, NBC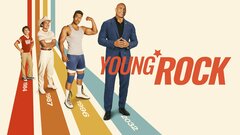 Powered by