Jordan Klepper on 'Fingers the Midterms-America Unfollows Democracy' Special
Jordan Klepper is back with his third Comedy Central special just as another important election cycle heats up. This one titled…takes a deep breath….The Daily Show with Trevor Noah Presents: Jordan Klepper Fingers the Midterms-America Unfollows Democracy.
The half-hour show follows the Emmy-nominated host, executive producer, and writer on his travels to Arizona, Pennsylvania, and Michigan. There he ventures to a series of rallies for Governor Doug Mastriano and nominees Tudor Dixon and Kari Lake to speak with GOP voters. Those who reject the 2020 results, Joe Biden as president, and the events of the January 6 United States Capitol Attack.
Klepper also sits down with Republican U.S. Rep. Adam Kinzinger and Oath Keepers of Yavapai County to explore just how close we are to America's next civil war. Here The Daily Show contributor explains how the show explores the question if democracy is indeed dead.
How would you compare this special to the other two you've done?
Jordan Klepper: This one was really hyper-focused on the midterms and all this conversation about the state of American democracy. We honed in on the key states where people were talking about democracy election deniers. Where let's talk to people on the ground and how it affects them. Let's talk to the people who are part of that conversation like Kinzinger, as well as Oath Keepers outside of ballot boxes. It was really an all-hands-on-deck, let's make this about the midterms and hit the road.
Did you find more people recognizing you as you ventured to these states? Did you experience any difficulty getting anyone to talk from these rallies?
It's a mixed bag. Sometimes people recognize me, and it causes them to want to engage. Sometimes people recognize me and don't want to talk to me. Usually, it's less about recognition and more about the camera crew that is behind me. At a lot of these events, the media is the bad guy. But people want to talk and put their ideas out there, so we had a lot of conversations with people from all three states where they tended to reveal themselves through their points of view.
What did you take from your conversations with them?
What I was surprised by was the certainty people had when it comes to the upcoming election. We talked to people who wouldn't even consider or entertain the idea their candidate would lose the election in a few weeks. That was worrisome to us. There is already this distrust of institutions and of the democratic process that is kind of embedded in the way a lot of these candidates are even running for office. To see that felt like we had a glimpse into America a month or two from now. It wasn't a good scene.
How was it sitting down with Rep.Kinzinger? How important do you think he was to the special?
Kinzinger is an interesting character who has seen it up close. He was there on January 6. He is there on the January 6 committee, and because he is taking that position, found himself without a party. Fast forward to the midterms, and he is supporting democratic candidates in states outside his own, specifically candidates running for secretary. That was compelling because we asked why secretary-of-state elections are so important. It's because those are going to have a big effect on the 2024 election. He is very candid. He also didn't dance around certain things like civil war, which is what we started to hear from multiple places we went to. To hear someone that close and on the committee who is also talking about the dangerous waters of democracy right now really grounded the story we were telling.
Did any of the responses surprise you when it came to attendees when asked about the January 6 storming of the Capitol or the election results?
Less surprised and more disappointed. Going to rallies where Trump is the centerpiece, very few had a working knowledge of the candidates they were voting for. It shows you the power Donald Trump has over the Republican party right now. When it comes to January 6, that still is something there is no coherent narrative from the right-wing people we talked to. Some see it as a prideful day. Some see it as something to blame on Antifa. The narrative continues to shift, but it definitely is not an event that disqualifies anyone who attended.
You met with Oath Keepers, who did not hide the fact they were carrying. What was that experience like?
I think what was important about the special was to do more than the man on the street. A very compelling story that is going on in Arizona right now is those ballot watchers, specifically these groups like the Oath Keepers. They are outside ballot boxes with guns on their hips, taking pictures and notes from their cars of the people who drop off ballots. It's a scary picture that is painted. They would argue that they are doing their civic duty and that it only helps create a safer election. Others would argue it's a form of intimidation. We wanted to talk to them and sit in on a meeting and get their perspective and understand what they see their role being. As someone coming from New York, they had someone that can push back and express what looks like intimidation from the outside. A gun-happy culture brings that to a place where perhaps you don't need this kind of weaponry or vigilante justice.
You do bring some hopefulness at the end, but what did you walk away with from your time putting the project together? What do you want people who watch this special to know?
It's an important time in our country right now. Perhaps the most consequential midterm elections I've ever seen. Rep. Kinzinger pointed out we could be in real trouble if things go a certain way. I've often had faith in American institutes. And these democratic ideas we hold so highly, they don't hold up by themselves. You have to support them and fight for them. I think I walk away with this nervousness about our shared disinformation of the facts, scared about some of the adults in the room acting like children. I'm trying to stay optimistic about a democratic process the country can accept the results of. Because I think if we get to the point where we don't accept the results of these processes, then you can no longer have an inherent democracy. So places like races surrounding the secretary of state might be elections people might not normally care about, but it is imperative this year that you become aware and care.
What was your reaction to Trevor's plans to leave The Daily Show at the end of the year? Where do you see the future of the show?
Surprising to hear Trevor was stepping down but also happy for him. I know he spent so much time and effort to make the show what it is. It's exhausting to be behind that desk. I'm glad he'll get a little bit of the break, but I'm sure he'll take all of a few minutes off and then jump on the road to do sellout shows in arenas. Kudos to Trevor. I'm always optimistic about The Daily Show. I've been there since Jon [Stewart] and time with Trevor. It's a place I love dearly. I'm excited to see what happens next.
Is there an ideal candidate to replace him in your mind? Even yourself maybe?
I'm doubling down that if we can get past these midterms, then I can focus on who I think that host would be. I love being part of the show. I want to see the show confidently stride through these next years because they are important years. The Daily Show has been there for decades on the ground and going to places. I get to be at these places and talk to these political officials. People who are affecting policy as well as people affected by the policy. I think that conversation is really important and will continue to be important.
The Daily Show with Trevor Noah Presents: Jordan Klepper Fingers the Midterms premiere, November 1, 11:30/10:30c, Comedy Central
Jordan Klepper Fingers the Conspiracy podcast premieres November 9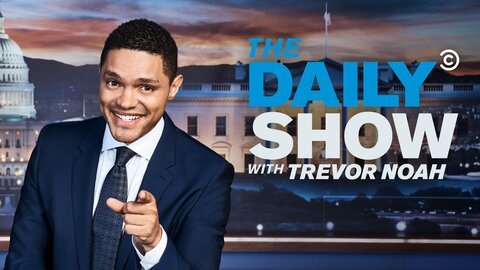 Powered by