'The Big Bang Theory' Tell-All: Author Jessica Radloff Talks the Book's Juiciest Bits
Glamour senior editor Jessica Radloff sat down with the creators, producers, and cast of The Big Bang Theory just in time for the show's 15th anniversary to produce a book that's a must for all Big Bang fans.
People may think they know things about the hit show — like that the original pilot didn't include Penny (Kaley Cuoco), and that Cuoco and Johnny Galecki, aka Leonard Hofstadter, had an off-screen romance — but there's so much more that Radloff uncovers. She spent hours and hours with the show's creative team (co-creators Chuck Lorre and Bill Prady, executive producers Steve Molaro and Steve Holland) and the stars, including Cuoco, Galecki, Jim Parsons, Simon Helberg, Kunal Nayyar, Melissa Rauch, and Mayim Bialik, plus others to get the inside scoop on the beloved series that made it cool to be a science nerd.
Each and every interview subject shares with Radloff the kind of stories that most folks save for their memoirs. TV Insider sat down with the author to get the inside scoop on The Big Bang Theory – The Definitive, Inside Story of the Epic Hit Series, which is available now on Amazon.
How did the idea for this book come about?
Jessica Radloff: It was actually a literary agent's idea to explore a possibility of an oral history of The Big Bang Theory. He first brought the idea to [journalist] Lesley Goldberg. She loved the idea but didn't have the bandwidth to take this on. She called me to see if I wanted to do it. I couldn't believe it. I could only think about this if three things were to happen 1) my bosses at Glamour had to sign off on this, and they did, which I'm so grateful for 2) Chuck Lorre and Steve Molaro had to be on board and 3) if those two things happen, this has to be the book that I want to do. It has to get to the heart of the show and why these characters and stories were so important. I wanted to do a deep dive. I called Steve Molaro and he said, "You have to do this." We went to Chuck. He gave his blessing and was wonderful. That's how it all began.
I would not have blamed anyone if they'd thought it was too soon to do a deep dive into the show. Any one of them could have said to me, "I'm just not ready." To my surprise, they were all game. I don't know another cast that would have done it that was on this level of success.
Was there anything off limits?
No. That was the greatest gift that they all gave me. Jim Parsons did over 20 hours of interviews. I will never forget the day of our last interview when he said, "I'm kind of bummed this is our last interview. I feel like we're just scratching the surface."
How soon into the process did you realize you had so many untold stories?
I asked Steve Molaro if there would be new stories for even the most die-hard fans. I can't ask anyone to spend money on a book where they'll say, "Yeah, I knew that already." I knew there had to be material for a 300-page book, which became a 500-page book. Steve said there would be. What I didn't know is that Steve actually walked away from the show after its first season. He decided to go back to Nickelodeon. Chuck and Bill said the door was open. Steve said he agonized over the decision. Right before they started the writers room for the second season, he came back. He's the one who brought [Bialik's] character of Amy Farrah Fowler on board. He infused the show with a heart. Had Steve left after the first season, this would have been a vastly different show.
I didn't know Simon wasn't the original choice for Howard – Kevin Sussman, who ended up playing comic book store owner Stuart Bloom, was.
Neither did Simon!
How did he find out?
Kevin told me the story [about how he was up for the part]. I asked if he ever told anyone. He said no. Simon had been my first interview for the book. He knew Kevin Sussman was in the mix for the show, but as far as Simon knew he was the [first choice for Howard]. It was hard for me to tell someone that the history they thought was true wasn't really what happened. You never want to feel like you're ambushing someone. Simon was shocked, but to his credit, he said that it made sense to him given there was a period of time where he was in limbo. Later, Simon asked if I was okay if he reached out to Kevin. I said absolutely. I give both of those men such credit for how they handled it.
That Chuck brought Kevin onto the show later speaks to his loyalty to people.
Chuck is extremely loyal. I first met Chuck 10 years ago at the TV Academy. He's really welcomed me into the fold and respected me as a journalist. He wants people treated fairly and with kindness. I'm appreciative of how he'd always made the time for me and been kind in return. His loyalty is everything. Kaley says, "If you have Chuck's loyalty, you're in for life." But if that loyalty is broken, you can be out. He knew from the beginning he wanted Kevin. Bill Prady did, too. They never forgot the people who came in and made an impression.
How did you approach getting Johnny and Kaley to talk about when they dated?
They had talked about it in the past. But [having dated] is essential to the friendship between them. I brought up early on the friendship between them. I let them decide how much they wanted to go into the dating aspect. I never wanted to push, but I could tell early on that they were open to it. Johnny told me this great story about how Kaley tried to come onto him after she'd broken up with her boyfriend. He said, "I'm okay with this story if Kaley is." I talked to Kaley and she said, "I'm fine with it." At that point, I knew we can go there. That was special to me.
In many ways, their love story, respect and friendship is so much the heart of this show. Kaley suggested that I do interviews with her and Johnny together. I love a good love story even if it doesn't work out. They trusted me to tell theirs. It's really special. It's one of my favorite parts of the book. In a way, it played out like an episode of Friends. They didn't want people to know. I had the best time going there.
The cover image of the broken elevator and the yellow tape instantly speaks to the show. But why not go with a cast photo?
The cover was the hardest thing to land on. People have asked me how I grew as a person during this book. I learned how to say, 'Thank you, but we need to do better." I had wanted to put on the cover the cast photo from the DVD of the last season. They're side by side looking over their shoulders. However, what I learned is that when a consumer sees an image on a book shelf, sometimes it can look a little too much like a board game. We thought about putting on the cover a photo of the couch in Sheldon and Leonard's apartment. However, the elevator was universal for all of them. I really stuck to my guns on this. I thought we had to get it right. When I emailed Chuck the cover, he wrote me back and said, "Brilliant. I love it." I started to cry. And I'm not a crier. I thought, "Okay. I can breathe now."
You went into real-life miscarriages, salary issues…nothing was off limits.

This book was like a baby. I was so protective over it and I'm protective of them. Jim goes into his decision to give up drinking for nine years. I was afraid people would misconstrue that as people thinking he has a drinking problem…now there's nothing wrong if someone does, because it's a disease. But I wanted to handle it with care. He wasn't saying he had a drinking problem – he needed to get healthier. You can't help how people read that, but I can try to make sure that it reads exactly as Jim intended it and how he worded it.
Did you have input into photos that are included in the book?
I was adamant from the beginning that this book have a lot of photos. Everyone was so forthcoming with their photos. I was grateful to my publisher for including black and white photos throughout the book. She was great about that. The photos also help tell the story. I emailed everyone releases and they all signed them. Kunal said, "My printer's broken. I'm going to FedEx to print this."
There's so much before the first episode that you get into in the book – the original pilot, the 'Penny' character when she had a different name. And you bookend the book by closing it with talk of a reunion which, of course, viewers would love to see.
I wanted to end the book talking about a reunion because it's what everyone wants: "C'mon! It can't be over!" Johnny Galecki said to me, "This is the reunion." Jim Parsons said to me, "This book is the reunion." I do think that one day they will all come together for a reunion. It may not be scripted. It won't happen for some time, and I don't think it would reveal as much as the book does. You look at the Friends reunion, but how deep can you get with something that has so many moving parts? Jim said, "I could never tell these stories that I told you in front of my cast members. Nobody wants to take more time for themselves from other people." As much fun as a reunion will be, I don't think that they're ever going to be as open and detailed as they were in this book.
How'd it make you feel when Johnny and Jim said, "This is the reunion?"
It was the nicest compliment. It means the world. I know why they trusted me, but I'm still blown away by it. Johnny was the most reluctant to go down memory lane. He's very private. He said, "I know I was reluctant, but you can't shut me up now." I knew we'd have to talk about some challenging times, but I wanted this to be fun for them.
The Big Bang Theory – The Definitive, Inside Story of the Epic Hit Series, Available Now, Amazon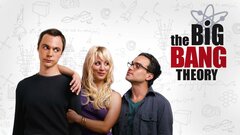 Powered by