'FBI': Zeeko Zaki on What OA Remembered, Plus Would He Have Confided in Maggie?
[Warning: The below contains MAJOR spoilers for FBI Season 5 Episode 4 "Victim."]
Special Agent Omar Adom "OA" Zidan (Zeeko Zaki) faces the same pressure that victims feel when he's questioning them in the latest FBI episode, after he's attacked one morning before work.
The NYPD detective on the case, Chavez (Carlos Gomez), pushes OA to identify his two attackers, though he insists he didn't see their faces. But, after a victim during the FBI's case reveals she can help more than she'd thought, he wonders if he can do the same in his own — and he was able to ID both people.
Here, Zaki discusses how much OA actually remembered, whether he would've opened up to Maggie (Missy Peregrym), on leave after an on-the-job injury, and more.
How much did OA remember? He was able to ID his attackers after looking at the photos, so did it come back to him? Was he suppressing it? Or did he want to think he couldn't remember?
Zeeko Zaki: I think OA honestly was so affected by what happened that if you were to immediately line up 100 people, there's no way he would have confidence IDing [anyone]. But I think through the journey he takes in this episode, what we're acknowledging, I think, is the human's brain's response to trauma and what the effect of time and clarity can do to these traumatic events. So the idea is it doesn't matter what you think you know, you have to sit with it, if that is the journey that you're gonna go on, and allow for your subconscious to kind of fill some of these holes. [It's] just kind of stepping up to that space and being willing to allow your brain to fill these gaps that you've kind of shut down because of the traumatic event or the embarrassment of it happening.
So I think a fun journey throughout this episode was being asked that question and asking that question a lot: Do I remember, do I not remember? And at the end of the day, I think it came down to "I just know that I can't help in the capacity that I should be able to, so I'm pulling the cord. I'm saying I don't remember." But then I think throughout the journey, you have to discover it and OA discovers it, and I think that's just an important kind of visualization to put out there, that it is possible to figure things out with just time and patience.
How's OA feeling about how everything went down and the way he handled it by the end of the episode?
I think by the end of the episode, what's really nice is the support system that he does have at work, and it kind of comes together and there is this sense of no matter how alone you feel in something, there are people around you that care and if you just allow them in and do have some vulnerability with the people around you as you wish they [have] with you, then that's a nice balanced place to even begin to approach these traumatic events. But we definitely leave off in a space where OA does feel like his team is there to support him. And I think moving forward, he's feeling a little more secure than in the beginning.
OA does open up to Nina (Shantel VanSanten) a bit in this episode. Talk about that dynamic, especially for OA. I'm really enjoying her being on the team, but having her there also has to be a reminder for OA why Maggie isn't.
Correct. The pace that we move through these insane cases on the show has to then sort of affect the way that the characters move through their personal situations and issues. If you're expecting a mother to be able to hold it together for a few hours to have a conversation about a lost loved one, then we have to have that strength with our own things. It just comes down to who do you want and who are you gonna allow to help you through these very personal things.
Having this degree of separation between the Nina character and my partner Maggie being gone and she really is the one that I'm working on all of my personal things with, I think it's really nice to show that there is help all around and there is understanding, regardless of the amount of time you spent with somebody. So I think that's a really important thing to show that it doesn't have to be your partner of 10 years to be able to show you that something might be OK or that there's understanding in a space.
Talk about playing OA in this episode though, because normally he's so in control of everything, but this is a situation where he couldn't be in control.
Correct. I think this is the battle of control and as we're all trying to process and deal with the things that we can and cannot control, it was really fun to get to play that on screen, regardless of it being written or not, getting to kind of live in that space that we try to hide from the world, the things that we can't control and we try to be in control so much. And as an FBI agent, you're in control even more. So I think just getting to show the other side of that and really getting to put up a loss for OA on his scoreboard. It's exciting, I think, to show strength in losing and hopefully moving forward, we'll get to kind of play around with more moments like that because those are the things that really do happen for real people. So it's exciting to look forward and see if we're gonna get to step into those vulnerable spaces again.
If Maggie had been around, would OA have opened up to her?
That's a good question. I think if she was around post what happened, maybe there would still be a little hesitation because of his protectiveness and not wanting to seem weak. I think maybe he would even hide it a little more because he's trying to be her protector and that's kind of the place and the journey they're on right now.
Speaking of that, what else can you preview about Maggie's return?
I think it's gonna be really exciting. Our writers are especially really excited that she gets to come back because we've gotten to do so much with all the other characters, and it's gonna be really fun for everybody to see how we get to throw in a lot of our missing partner. So it's a really good, well-rounded return. But I'll leave it at that and when we get on the other side of this episode, we'll be much closer.
You brought up him being a protector — the last time they were in the field together, he was trying to get her in that lab. That really has to affect how they are when they go out together as partners again for the first time after everything.
Exactly. And I think getting to play that, whether it drives him more into a protective state or not, will be exciting to see.
FBI, Tuesdays, 8/7c, CBS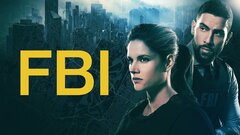 FBI
where to stream
Powered by