Let in Showtime's Teenage Vampire, Stanley Tucci Back in Italy, 'NCIS: LA' Returns, New Rookie on 'Rookie'
Let the Right One In
SUNDAY: The chilling Swedish novel that inspired two movies and several stage versions is now a TV series, made more conventional (yet still bizarre) by its focus on a father (the excellent Demián Bichir) who'll do anything to protect and provide for his eternally 12-year-old daughter Eleanor (Madison Taylor Baez). For the last decade, this poor child has suffered from the effects of a mysterious creature's bite. (Symptoms: insatiable thirst for human blood, aversion to sunlight, superhuman strength, must be asked in before crossing a threshold.) As in other treatments, Eleanor befriends a young boy (Ian Foreman) who's being bullied at school. This time, though, his mother (Anika Noni Rose) is an NYPD detective, investigating grisly murders that suggest another being like Eleanor is nearby on the loose. Elsewhere, a scientist (Grace Gummer) is drawn into a search for a vampirism cure for very personal reasons of her own. (See the full review.)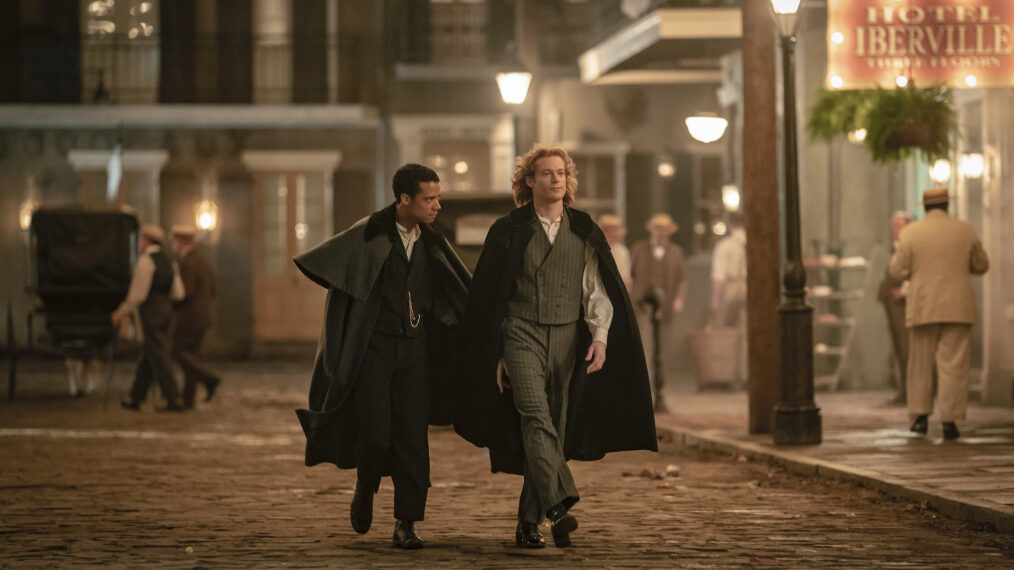 Interview with the Vampire
SUNDAY: Meanwhile, in another lustier vampire world, Rice's erotically charged saga of Louis (Jacob Anderson) and Lestat (Sam Reid) continues with newly turned Louis painfully learning the ways of the undead in early 1900s New Orleans. "Bliss was merely a stage in my transformation. Pain followed," he recalls. And not just physical pain but spiritual, because Louis doesn't take easily to killing to satisfy his cravings. The most critical lesson he'll soon learn: "Restraint is your most powerful weapon."
Stanley Tucci: Searching for Italy
SUNDAY: Savor the sights, the history, the culture and the tastes of Italy with acclaimed actor Stanley Tucci as the second season of his travelogue series continues with four new episodes. Recent recipient of a second consecutive Emmy for Outstanding Hosted Nonfiction Series, Italy returns with Tucci's profoundly personal visit to his family roots in Calabria, the region where his grandparents were born. He was last there as a 12-year-old boy, and plenty has changed. Or has it
NCIS: Los Angeles
SUNDAY: The 14th season begins with disturbing news from Syria about former boss lady Hetty (Linda Hunt). Naturally, Callen (Chris O'Donnell) wants to go on a rescue mission on behalf of his surrogate work mom, but Admiral Kilbride (Gerald McRaney) has more immediate concerns: the terrorist bombing of a facility that makes military combat drones.
The Rookie
SUNDAY: What goes around comes around. And The Rookie has come full circle as Officer John Nolan (Nathan Fillion) becomes a training officer for his own first rookie assignment, Officer Celina Juarez (Lisseth Chavez), who's got her own way of doing things. In other precinct news, new mom Harper (Mekia Cox) returns to the force.
House of the Dragon
SUNDAY: Another dizzying time jump, this time moving forward six years (meaning those squabbling Targaryen kids have matured a bit—if not grown up), finds the royals in Kings Landing, Driftmark and beyond dealing with a succession crisis within the Velaryon dynasty. This leads to a memorable debate before the Iron Throne and a fractious family dinner dictated by an increasingly ailing King Viserys. Paddy Considine makes the most of this troubled ruler's waning days, and I'll be shocked if the Emmys don't take notice.
Inside Weekend TV:
Pumpkin Everything (8/7c, Hallmark Channel): Tis the season for pumpkin spice, and even Hallmark isn't immune. Case in point: the story of Amy (Taylor Cole), a novelist who goes home to tend to her injured gramps (Michael Ironside) and run his pumpkin-themed store—now managed by the one who got away (Corey Sevier).
Cursed Friends (Saturday, 8/7c, Comedy Central): Nicole Byer (Nailed It!) and Harvey Guillén (What We Do in the Shadows) headline a supernatural comedy about childhood friends whose predict-the-future game from 20 years ago has started coming true with disturbing results. The eclectic co-star roster includes Kathy Griffin, SNL's James Austin Johnson, Joey Fatone, Nicole Richie, Nikki Glaser, Ken Marino, Rob Riggle and Will Arnett.
Bring It On: Cheer or Die (Saturday, 9/8c, Syfy): The cheerleader franchise has an unpleasant crossover with the slasher genre when a squad rehearses their secret new routine in an abandoned school, only to have them succumb one by one to a killer on the premises. Gimme an E! Gimme an E! Gimme a K! What's that spell? EEK!
Critter Fixers: Country Vets (Saturday, 9/8c and 10/9c, Nat Geo WILD): Georgia vets Vernard Hodges and Terrence Ferguson use heart and humor as their caseload in the back-to-back season premiere includes treating a ferret with a fractured pelvis, a goose with something lodged in its trachea and a dog that swallowed a pair of unmentionables. All in a day's work.
Saturday Night Live (Saturday, 11:30/10:30c, 8:30/PT, NBC): Emmy winner Brendan Gleeson (Mr. Mercedes), currently earning raves in the film The Banshees of Inisherin, hosts for the first time, with first-time musical guest Willow performing from her newly released fifth album.
60 Minutes (Sunday, 7/8c, CBS): Lesley Stahl heads to Taiwan, where fears of a Chinese invasion run rampant, while Bill Whitaker visits areas in Florida impacted by the devastation of Hurricane Ian. Anderson Cooper interviews Bart Barber, newly elected president of the embattled Southern Baptist Convention.
Celebrity Jeopardy! (Sunday, 8/7c, ABC): In the last quarterfinal before next week's first semifinal match, Fresh Off the Boat/Crazy Rich Asians star Constance Wu faces The Mindy Project's Ike Berinholtz and ESPN analyst Jalen Rose.
Secrets of the Dead (Sunday, 8/7c, PBS): The armchair archeology series returns for a 20th season with the excavation of Althorp Castle, better known as Princess Diana's ancestral home. Followed by the Season 2 finale of Van der Valk on Masterpiece Mystery! (9/8c), with the moody Amsterdam cop Piet van der Valk (Marc Warren) investigating the murder by acid of a promising cellist.
The Walking Dead (Sunday, 9/8c, AMC): After making a deal with Governor Pamela (Laila Robins), our heroes experience Founders Day back at the Commonwealth, with plots and counterplots brewing. How long before the celebration turns to chaos?
Mid-Love Crisis (Sunday, 9/8c, Hallmark Movies & Mysteries): Desperate Housewives alum Teri Hatcher is Mindy, a divorced science teacher turning 50, and not too thrilled that her daughter has invited her high-school sweetheart (James Tupper) and her ex-husband (Brian Markinson) along for the celebration.
East New York (Sunday, 9/8c, CBS): The promising new police drama finds 74th Precinct leader Regina Haywood (Amanda Warren) trying to practice what she preaches, determined to provide equal resources and attention to two homicide victims from vastly different socioeconomic worlds: a man from the projects and a hedge-fund partner.
The Real Housewives of Potomac (Sunday, 8/7c, Bravo): Rejoining the cast for Season 7: Charisse Jackson Jordan from the first two seasons, along with new friend Jacqueline Blake.