'Good Behavior Preview': Letty Meets Javier's Family (VIDEO)
There's nothing like a family reunion to give you insight into the person you're kind of seeing. Of course things can get a bit more fraught when your potential significant other is a killer by trade.
In this week's episode of Good Behavior, the show producer Chad Hodge calls "a story about a kind of a Bonnie and Clyde from Bonnie's point of view," the tempestuous and uncertain relationship between the show's leads Letty (Michelle Dockery) and Javier (Juan-Diego Botto), could either blow up beyond repair or reach a deeper understanding.
RELATED: Michelle Dockery Breaks Bad for New TNT Drama
As Letty, a thief and addict, plays the role of strait-laced hit man Javier's girlfriend to his estranged family, she tries to find out as much as she can about his past and why he chose his particular line of work. As Botto puts it, "He kills people for money, but he doesn't take pleasure from killing people. It's not something he's proud of, but he's good at it. This week, we'll find out why and how he got into this life," says the actor.
Unsurprisingly, the charming assassin's history is a pretty dark one.
Here's an exclusive clip of an explosive exchange between Letty and Javier as he prepares dinner for his not so warm and cuddly clan at his sister Ava's new restaurant. (Fun fact: Ava is played by Botto's real life sister Maria Botto, who, like her brother, is a popular actress in Spanish films and TV.)
Good Behavior, Tuesday, Dec. 20, 9/8c, TNT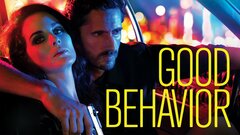 Powered by