'America's Got Talent' Sneak Peek: Can Siegfried and Joy Win Over Simon? (VIDEO)
At least one of America's Got Talent judges is not immediately impressed by the act on stage in TV Insider's exclusive sneak peek of the June 28 episode.
As we enter the fifth week of auditions of America's Got Talent Season 17, Siegfried and Joy, magicians from Germany, take the stage, presenting the judges — Simon Cowell, Sofia Vergara, Heidi Klum, and Howie Mandel — with a "prediction tunnel." Inside is a fruit, but no one knows what it is. "You will decide," Joy says… as Siegfried in a banana costume crawls inside. Joy has Cowell pick any of five cards with five numbers and five different fruits on them.
After Cowell picks the first one, Joy turns to Siegfried, standing up in the tunnel, and the audience can see that the four other cards all read "banana." They laugh, but Cowell doesn't seem to be as amused. Then, Joy flips over the card he chose and it reads "strawberry," though he says "Simon says banana." Watch the rest of the clip above to see if Siegfried and Joy can win over Cowell with the end of the act, plus Vergara's reaction.
Once again, aspiring performers are competing for the ultimate $1 million prize. For America's Got Talent Season 17, the six weeks of two-hour live shows at the Pasadena Civic Auditorium begin on Tuesday, August 9, at 8/7c with the one-hour results shows then set to air Wednesdays at 8/7c.
America's Got Talent, Tuesdays, 8/7c, NBC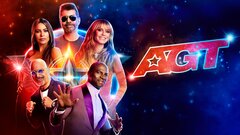 Powered by