'Wellington Paranormal' Co-Creator Previews Season 3 Cases for the Kiwi Cops
For Round 3 of Wellington Paranormal, this hilariously spooky mockumentary about a New Zealand police squad tasked with taking down supernatural threats finds Officers O'Leary and Minogue (Karen O'Leary and Mike Minogue) facing "some of their most dangerous cases yet," says co-creator Paul Yates.
"First, there's an invisible entity that's a little bit 'handsy' — at least we thought they were hands!"
Future calls include a hairy forest-dwelling beast, a sentient blob of sewage grease, ghosts dressed à la Where's Waldo? and a meteorite crash.
Per Yates: "Just a normal week on patrol for New Zealand's favorite paranormal cops."
Wellington Paranormal, Season 3 Premiere, Wednesday, June 22, 9/8c, The CW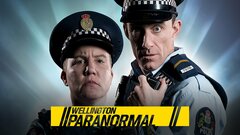 Powered by