'Gilmore Girls': The 'Final Four Words' Have Less Impact Now
Spoilers for Gilmore Girls: A Year in the Life follow!
Fans of Gilmore Girls have been hearing about the "final four words" creator Amy Sherman-Palladino has had in her head for a decade now; ever since she and her husband Daniel Palladino left the original series in 2006, leaving the final season to be run by David S. Rosenthal, she's been telling us she's would eventually get a chance to use those words to conclude the story of Lorelai and Rory Gilmore (Lauren Graham and Alexis Bledel).
Now that we've heard these words, it makes me wonder: was the anticipation worth the wait? And did time change the meaning of those words.
RELATED: 12 Things to Know About the Gilmore Girls Revival
The words weren't any big proclamation of love, like "It's always been Luke" or "I love you, Jess," it was a news bomb dropped by Rory after Lorelai and Luke (Scott Patterson) had their pre-wedding wedding:
Rory: "Mom?"
Lorelai: "Yeah?"
Rory: "I'm pregnant."
We have to assume that she's pregnant by Logan (Matt Czuchry), with whom she had a very European (literally and figuratively), relationship through the entire miniseries; traipsing to London to have a "no strings" affair with her college sweetheart, who is engaged to a French woman named Odette.
The idea makes a few scenes in the "Fall" episode make sense, notably her discussion with her father Christopher (David Stucliffe) about how he felt about not participating in her upbringing. She knows, given the fact that while he's far more mature than he was a decade ago, and he can still call on his buddies in the Life and Death Brigade to show Rory a night of overprivileged hijinks, he still won't step up and be by her side. It's a similar situation to her father; a guy from an old-money family who always shied away from doing right by their respective Gilmore girls.
RELATED: Gilmore Girls: A Look at Rory Gilmore's Boyfriends and Why None of Them Are Right For Her
Only, the stories are completely different; Lorelai was 16 when Christopher knocked her up, whereas Rory is 32. And while reading that number is somewhat shocking, given the fact that a) Bledel still looks like a dewey-faced college student and b) Rory seems to act the exact same way she did at Yale, this number was paraded out to us multiple times during the six hour miniseries, as if to remind us that Rory is, indeed, a grown-ass woman. This wasn't the actions of a teenager giving the middle finger to her wealthy, super-proper family; it was the actions of a grown-ass woman doing grown-ass woman things.
The words just don't have the impact that they might have had a decade ago, when Rory was 22 and just getting her life, a life where everyone expected her to be the next Lara Logan or Christiane Amanpour (who showed up in the series' 2007 finale), lined up. No, now Rory was adrift, living back home in Stars Hollow, editing the free newspaper, and writing a memoir about her life with her mother. Also, there are plenty of thirtysomething women who have kids on their own and make the adjustments they need to keep chugging along, personally and professionally. It just isn't the showstopper it would have been a decade ago.
What it does set up, and this is a word that popped in my head as soon as the screen went black, was a sequel. Alan Sepinwall of Uproxx had a similar thought: "Because anything can be revived now, and often is, it's no longer the period on the end of the sentence — leaving us up in the air as to what's coming next, but bringing some thematic closure to the story — but an ellipsis that, whether Sherman-Palladino intended it this way or not, will only drive speculation about more more more."
Come on, don't you want to see it? Lorelai as a young, cool grandma cooing at Rory's son or daughter and telling him/her about the virtues of The Returned? Luke settling into the role he was born to play: grumpy but lovable grandpa, making pancakes and telling the kid to stop looking at his/her iPad? Rory dealing with being a single mother, even with her grandmother Emily (Kelly Bishop) and all of Stars Hollow chipping in? And newly-muscular Jess (Milo Ventimiglia) helping out as a way to re-establish himself in her love life? It's all there for AS-P to write. And those last four words set that up perfectly.
Which is why AS-P should have probably never told us about those four words to begin with. Because time has a way of messing with the story you have written in your head, and a new ending would have made what was otherwise an excellent (if somewhat bloated) return even more satisfying to watch.
Gilmore Girls: A Year in the Life, Now streaming, Netflix.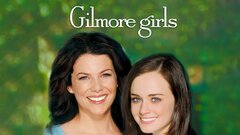 Powered by