Diane Is Alive! Susan Walters on Her 'Y&R' Character's Surprise Resurrection
Soaps usually bring characters "back from the dead" when their body hasn't been found—not when they've been killed on-camera and there's a corpse! But it's not unheard of as The Young and the Restless is showing with the March 23 return of Diane Jenkins. The character was killed by Nikki (Melody Thomas Scott) in self-defense back in 2011, but clearly Diane is very much alive as viewers can attest!
Susan Walters, who played Diane from late 2001 to 2004 and again briefly in early 2010, is back in the role, which was last played by Maura West (now Ava on General Hospital). Walters says that she nearly missed the call that came in late last year to bring Diane back to Genoa City.
"It came as a surprise," Walters tells TV Insider. "You know how voice texts can mispronounce words? I got one that said, 'Hey, this is Tony Morina from 'Wine Art'—not 'Y&R.' I didn't pay much attention to it as Tony [Y&R's executive producer] wasn't there 20 years ago when I joined, but we had met since. At first I ignored it, but then I listened to the message. I told Tony later, 'What if I hadn't listened to that message?!' He said, 'Well, we would have reached out to you again.'"
Walters knew that Diane was deceased, but the actress didn't hesitate when Morina offered her the role back. "I said, 'Sounds good.' He said, 'You do know that she's dead.' I said, 'Yeah. Wasn't me who died.'"
For now, Walters is sharing screentime with Jack's (Peter Bergman) granddaughter Allie, played by Kelsey Wang. "That's made it much easier," Walters says as she reacclimates to the pace of daytime, which has quickened greatly since she last appeared in the genre. "There were nerves, but I'm not scared of the process."
So, is that Walters who appeared in the promo that showed a mysterious woman walking, opening a door knob, and holding a phone? "Yes," she says. "I wanted to text [my good friend] Christian LeBlanc [who plays Michael] to tell him I was back. He's made jokes about my 'farm girl man-hands,' so I thought everyone is going to recognize those hands. I tried to give my hands and feet a nice angle."
Jack's troubles are just beginning…make sure you don't miss all-new episodes of #YR next week! 👀 pic.twitter.com/yb4bJDjqzF

— Young and Restless (@YandR_CBS) March 17, 2022
Walters got creative when she finally let LeBlanc know she was back at the show. She texted the actor a photo of her from his own dressing room at Y&R. "I wrote him and said, 'I'm here! I'm the mystery woman,'" she says. "Christian said, 'What mystery woman?' I said, 'Oh, call me!' It was fun to surprise him."
The actress was in Vancouver working on The Flash (shooting her recurring role as Dr. Carla Tannhauser) when Bergman reached out to his former leading lady. "They told Peter kind of early," Walters shares. "It was so much fun to hear his voice. So many things he's told me over the years I have taken to heart. He gives advice that you can carry with you your whole life. Just last week I said to someone, 'As my good friend Peter once told me…'"
Walters says that Bergman suggested to her that everyone is going to want to have a few words with Diane once she's back in town. The actress is looking forward to those encounters. "How lucky am I to be in a medium where people my age are still so relevant to the story?" she asks. "I play scientists and mothers and that's great, but adults [in daytime] have lots of fun stuff to play."
The last time Diane was in Genoa City it was less than a year, but she did a lot during that time. "I'm reading the scripts and people are talking about how much they hate Diane and how much damage she's done," Walters adds. "I emailed the writers and asked is there anything specific? The list I got back was hysterical! Diane slept with Victor [Eric Braeden]. She slept with Nick [Joshua Morrow]. Adam [now played by Mark Grossman] helped her fake her death, and she was with this guy named Deacon [Sean Kanan]. I thought, 'I have so much to learn!'"
For Walters, returning to soaps is going back to her roots. Her first role was as spoiled rich girl Lorna Forbes on the ABC serial Loving, which debuted in 1983. "That was my first job," Walters recalls. "Agnes Nixon [All My Children] and Douglas Marland [General Hospital, As the World Turns] wrote that show. I remember them being very kind to me. We had Geraldine Page and Lloyd Bridges in our cast [for the pilot]! I would go to rehearsals just to watch Geraldine and Lloyd rehearsing. What an acting class that was. Part of the reason I got the part was Michael Lindsay-Hogg, Geraldine's son, who directed the two-hour Loving pilot, said, 'Hire her. She doesn't know what she's doing yet, but hire her.'"
The Young and the Restless, Weekdays, CBS, check local listings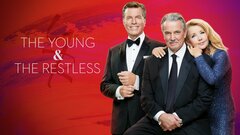 Powered by