'Greed' Drives Monique Coleman in Lifetime's New 'Seven Deadly Sins Story' (VIDEO)
Interior decorator Zuri Maxwell (Monique Coleman) had it all… but was it enough?
That's the question for Lifetime's new original movie Greed: A Seven Deadly Sins Story (premiering April 23), and TV Insider has an exclusive first look at the full trailer. Based on a book from the Seven Deadly Sins anthology by Victoria Christopher Murray, the film also stars LisaRaye McCoy, Eric Benét, and Nathan Witte.
Zuri has a career she adores, loving family and friends, and a good man in her life, artist Stephon Gardner (Witte), but then she meets handsome benefactor and entrepreneur Godfrey Anderson (Benét) and his fabulously wealthy aunt Miss Viv (McCoy), who have everything she thinks she wants. He romances here, and she compromises her values and morals to be part of that world.
See Also
The network has announced titles featuring Keshia Knight Pulliam, Brooke Elliott, and Mario Lopez, among others.
"I don't recognize you anymore," Zuri's friend says, but she argues, "it's still me, in better clothes." And Stephon notices "all you talk about is money," but Zuri sees it as "ambition." Watch the trailer above for more.
Greed premieres a week after Wrath: A Seven Deadly Sins Story, which is part of the same anthology series. (Lust and Envy premiered in 2021.) They are produced by Wrath Productions Inc and Greed Productions Inc respectively in association with T.D. Jakes Enterprises and RobinHood Productions. T.D. Jakes, Derrick Williams, and Shaun Robinson serve as executive producers. Troy Scott directed both films, while Richard Blaney and Gregory Small wrote the script for Wrath and Wuese Houston-Jibo penned the one for Greed.
Greed: A Seven Deadly Sins Story, Movie Premiere, Saturday, April 23, 8/7c, Lifetime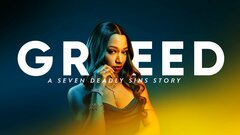 Powered by