'Law & Order: Organized Crime' Promo: Stabler Turns to Cragen for Help (VIDEO)
Detective Elliot Stabler (Christopher Meloni) is getting a major blast from his past, at a time when he really needs it, on Law & Order: Organized Crime.
Dann Florek, who played Stabler's boss, friend, and mentor Captain Donald Cragen on SVU, guest stars in the April 7 episode of Meloni's spinoff. The promo offers a look at his return, as well as Stabler's next move in his current undercover op. The detective needs solid proof that Donnelly (Denis Leary) is running a criminal enterprise, so what's he going to do? Wear a wire? Flipping someone is the better option, but who will be the next mole?
As for Florek's return, we see him with Stabler asking what he's heard about bad cops and corruption. Watch it below.
The logline for "Can't Knock the Hustle" also reveals that Stabler turns to Cragen to help sort the truths from the lies after Donnelly's versions of events don't match up to what he remembers about his father's heroic rescue on the job.
That came at the end of the latest episode, "Guns & Roses." Donnelly recalled a story about Stabler's father that was "famous" in his house growing up. According to him, Stabler's father and his partner were clearing a house without a warrant and were ambushed by an unarmed hotheaded kid. His partner got spooked and shot the kid. To justify the shooting, Donnelly claims, Stabler's father searched the house, found a gun, and had "his partner shoot him in the leg and make it look like Joe was defending him. … So Joe Stabler got a damn combat cross for taking that bullet. Now you want to talk about loyalty, you want to talk about brotherhood, we're just like our dads."
See Also
The undercover detective 'has been riding a tight rope and the line is just getting thinner and thinner.'
We last saw Florek in the world of Law & Order in the 500th episode of SVU, in which Cragen shared insight into the squad's case and told Olivia Benson (Mariska Hargitay) he was proud to be able to call her "Captain" now.
Law & Order: Organized Crime, Thursdays, 10/9c, NBC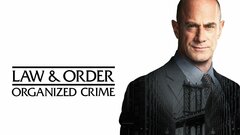 Powered by