'Outlander' Stars Sophie Skelton & Richard Rankin on 'Solid' Season 6 Dynamic
Outlander's stirring up drama in its sixth season, but for two characters on Fraser's Ridge, things are relatively light in comparison to their past obstacles, and that would be Brianna (Sophie Skelton) and Roger Mackenzie (Richard Rankin).
Following the first two episodes, it would seem that their biggest challenges are finding ways to help the Ridge and also work on expanding their family. For an engineer like Brianna, it's hard to face life in the 18th century knowing what inventions are to come, and so viewers got a peek at the ways in which she's bringing that knowledge to the community.
Most recently the young mother tackled matches to which she received fairly lackluster responses, "I think initially she's testing the water," Skelton shares, teasing Brianna's choice to start small with inventions. "I think she'll make her way through the elements. She's made fire. Could be onto water next," Skelton teases, "who knows?"
No matter what's to come, Skelton promises Bree's ideas will definitely get bigger and bigger as [the season] goes on. As for Roger, he's going to continue embracing his ministry role among Tom Christie (Mark Lewis Jones) and his fisherfolk. "Roger sees his application of that as a real way to help people on the Ridge in the absence of a minister there," Rankin explains. "It's less about the religion of it for Roger and more that he feels he can help people that are in need of that space being filled."
Already he and Bree have helped the McCallum family, feeling for young widow Amy (Joanne Thomson) and her wee son Aidan (Caleb Reynolds). Roger and Bree's empathy may also be fostered from their ongoing struggle to get pregnant.
Thankfully, Skelton points out of the couple displaced in time, "they really have become this solid team and unit. She also acknowledges that "Roger and Brianna would've handled that stress differently" if they were at a different point in their relationship.
"I think that it would've gotten between them. But I think what's beautiful about this season is that we're just going to prove more and more that things aren't going to get between them," Skelton remarks before adding "At least, hopefully for a while."
"A lot of people silently struggle to get pregnant and have problems with pregnancies and so it's a really a discreet, but beautiful moment," Skelton points out of Bree and Roger's conversation in Episode 2, "Allegiance." As new issues arise amid tensions on the Ridge and revolutionary actions approach on the horizon, both Roger and Bree keep strong.
"They haven't told the rest of the family, but at least they're going through it together and going to come out of it together because they really are such a strong team this season," Skelton continues.
As for Roger, he's balancing his ministry duties along with this personal obstacle with Bree but it isn't deterring him either. "Regardless of what's going on in his own personal life, due to his morality, I think he would still have just as much of a passion," Rankin adds, referring to Roger's drive to help any and everyone around him.
Hopefully, all of that care and support from Bree and Roger will bring them happiness in Season 6 because things are looking quite grim for the others on Fraser's Ridge. Stay tuned to see how their story unfolds as this latest chapter of Outlander continues.
Outlander, Season 6, Sundays, 9/8c, Starz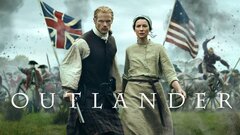 Powered by