'Outlander': Claire & Tom Disagree Over His Hand Surgery in a Sneak Peek (VIDEO)
Outlander's sixth season on on Starz continues this Sunday, March 20, as the Christies become more settled at Fraser's Ridge. Claire (Caitriona Balfe) and Jamie (Sam Heughan) do their best to be hospitable hosts, but does Tom (Mark Lewis Jones) appreciate their help?
In the above exclusive sneak peek clip from the episode, titled "Temperance," Tom informs Claire that he'll go through with the surgery on his damaged hand, but without her ether. "I have agreed to the operation, but I will not allow you to employ your potions upon me," Tom tells Claire sternly.
"Well, why not?" she questions, knowing that the alternative would mean severe pain for Tom during the procedure. Of course, the explanation turns back to religion as Tom says, "'tis the devil's work."
Claire's reaction suggests that she's heard it all when it comes to explaining why patients won't accept her modern methods. "I thought just Highlanders were stubborn as rocks…" she begins as Jamie walks into her surgery.
Seeking an explanation, Jamie wonders what's going on and who is being stubborn. "God wants him to have the surgery," Claire tells him, adding, "the masochist is refusing the ether." Her use of the word masochist confounds Tom who wonders what it means. Fans may recognize this as a callback to the Season 1 episode, "The Reckoning," when Jamie asked Claire what the word "sadist" meant.
As Claire begins to explain the term to Tom, she and Jamie share a loaded glance. See how Tom reacts in the clip, above, and don't miss Outlander's latest episode when it airs Sunday!
Outlander, Season 6, Sundays, 9/8c, Starz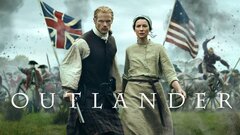 Powered by