Clayton Echard & Susie Evans Talk 'Bachelor' Backlash & Their Road-Trip Future (VIDEO)
The road to true love is never easy. And the journey of The Bachelor is never easy to look away from — especially when the mistakes leading to "the most dramatic finale ever" are as plentiful as the hearts broken by said mistakes.
This is exactly what Season 26 of ABC's competitive dating series became: A road map of so many of the bad choices one makes when they're A) young, B) searching for love, and C) doing so on national television. For the last three months, Clayton Echard has been navigating the tricky intersection of group dates, international travel, network-financed extravagance, production influence, and, let's be honest, hormones. It's been a blessed mess in the messiest way. In his first night alone, two of the women vying for Clayton self-deported themselves from the show. He kept a bully around longer than we could handle. He admitted to sleeping with two of his finalists and telling all three of them he was in love, sending his eventual pick Susie Evans racing for the Icelandic exits.
Still, the drama was not done. By the time we got to the two-part finale this week, Echard was all up in his head about the one that got away. So much so that he chose to end things with both Rachel Recchia and Gabby Windey (both of whom scored the next Bachelorette gig for their troubles) and begged Susie for a second chance. Now, some may say Clayton breaking up with both ladies at the same time was in poor form, but let's not forget: You group date, you get group dumped.
Or dumped on. Echard faced not just his very unhappy exes in the live portion of the finale but also Susie who, back in Iceland, agreed to meet him at the Final Rose Lodge or whatever that spot was. However, she wasn't there to reunite — she wished him the best and peace out. But clearly, feelings aren't facts because it was soon revealed that, after leaving Iceland and having a long think, Susie decided to give Echard another shot. They are now happily coupled and on their way to cohabitation, despite the amount of online backlash being hurled at them by Bachelor Nation.
Just hours after their public debut and Clayton's televised (and deserved) tongue-lashings, we chatted with the two, who were able to laugh a bit while also being honest about internet reaction. "It didn't necessarily feel like a celebration for us," admits Evans of Tuesday night's finale. "We expected that because of the way everything played out.. but our friends and family [champion us]. And ultimately, along with our relationship, that's what matters."
Evans also offered huge praise to Gabby and Rachel, whose mutual support and respect in some ways wound up becoming the true heart of the season. "I think we can all champion that friendship."
So what's next for the happy Bachelor couple? And what advice do they have for the new Bachelorettes (and their eventual suitors)? Watch the full video above to find out.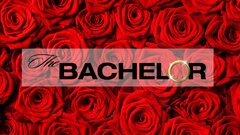 Powered by