What's Next After Meemaw & Dale's Split? 'Young Sheldon' Stars Weigh In
Laughter has always been at the center of CBS's Young Sheldon, the early-'90s-set prequel to The Big Bang Theory that explores the life of persnickety 12-year-old genius Sheldon Cooper (Iain Armitage) and his East Texas family. But heading into its 100th episode, TV's No. 1 comedy has been pulling on the heartstrings as well.
In the March 10 half-hour, Sheldon's live-wire grandmother Connie, aka Meemaw (fan favorite Annie Potts), was blindsided when her cantankerous boyfriend, sporting goods store owner Dale Ballard (Parenthood's Craig T. Nelson), dumped her. "It was a little tough to watch," admits cocreator Steven Molaro, but the twist fits the sitcom's mission for Season 5. "We're not shying away from letting this show become the dramedy that it can be," he says.
What hurts the most about the split? The senior couple genuinely care for each other. "Dale fell in love with who Meemaw is, all of the rough edges and absurd qualities," Nelson explains. But now, they're moving at different speeds: He's ready to slow down, retire and travel. She just used the profits from her booming business — a laundromat with an illegal gambling room in the back, purchased earlier this season — to buy herself a bright yellow Miata convertible that Dale can barely fit in. ("I'm crunched up like a pretzel," Nelson jokes.)
"Meemaw definitely likes to be in the driver's seat," says Potts, who really wanted a Miata when the sports car was first released during her Designing Women run but deemed it too silly a splurge for a practical mom at the time. "When Steve called to let me know Meemaw was getting a new car, and that it was a Miata, I was like, 'Yes! Thirty-five years later, I get the car of my dreams!'"
The breakup's aftermath helps fulfill another wish for Potts, who says she made a rare request to Molaro last summer before the season began filming: "Could Meemaw be occasionally drunk and naughty?" she asked. "Because that's really fun to play." In the milestone March 31 episode, Dale and Meemaw are each reeling in their own hilarious way. He leans on his store's recent hire, Sheldon's grumpy dad George Sr. (Lance Barber). Says Nelson, "Dale reverts back to his emotional immaturity: 'Is she asking about me? Is she talking about me? Did you see that car she bought? She's ridiculous!'"
Meemaw, meanwhile, copes by confiding in Sheldon's exasperated twin sister, Missy (Raegan Revord), and inviting her pious daughter Mary (Zoe Perry) to join her for an afternoon drink. The outing makes for a memorable family dinner later that evening. "Meemaw, who's had quite a few beers, feels free to vent in front of the children just where she's at regarding Dale," Molaro teases. "It's a fun scene."
Whether or not the split sticks, Potts predicts we haven't seen the last of Dale. "Mr. Nelson is awfully appealing, so they might want to keep him around," she says with a grin. It was love at first sight for her when the Coach Emmy winner began recurring on the show in Season 3. "He was nervous, like a teenage bridegroom, which immediately endeared me because I knew he was a hard worker and we're cut from the same cloth," she says. ("It's a sign I care," Nelson says. "It's so wonderful to find somebody you can play with.")
See Also
The 'Book of Boba Fett' star also gushes about her love of sitcoms, saying, 'I want to be the Betty White of Asian American actors!'
Molaro promises Dale will remain in the Coopers' lives somehow: "We love Craig T. and don't want him to go anywhere," he says. He also hints that Meemaw is likely to press pause on dating for the immediate future as she and her eldest grandson, sneaky high school dropout Georgie (Montana Jordan), "look for new legal and illegal ways to make their casino more successful." Stay naughty, Meemaw!
More show shockers!
Someone Is Jealous of Sheldon's Social Skills

In the 100th episode, fellow child prodigy Paige Swanson (Mckenna Grace) can't believe Sheldon has made more friends than she has at their respective universities.
Georgie Grows Up

Sheldon's 17-year-old brother has yet to confess to his 29-year-old girlfriend Mandy (Emily Osment) that he's not 21. A twist in the 100th episode will send ripples throughout the Cooper family in episodes to come.
Will George Cheat?
Looking ahead, Sheldon's mom Mary continues to grow closer with her church's young pastor, Rob (Dan Byrd). And Big Bang Theory fans know adult Sheldon (Jim Parsons) once confessed that he walked in on his dad with another woman when he was 13. Could we see George and divorced neighbor Brenda Sparks (Melissa Peterman) ignite the sparks between them? "They just might," Molaro says. "I think we find ourselves in a position where we can get as serious as we want. Hopefully, at this point, the audience cares enough about these characters that they're willing to go on the journey with us."
Young Sheldon, 100th Episode Thursday, March 31, 8/7c, CBS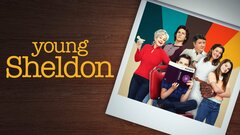 Powered by