Jeff Foxworthy on the Stories of 'The Good Old Days,' His First Solo Act in Decades
Jeff Foxworthy is known for his "You might be a redneck if…" jokes. (One payoff: "You run out of beer and call 9-1-1.") But, says the Georgia native, "I'm more of a storyteller."
He proves it in his first solo act in two decades with Netflix's The Good Old Days.
Your golden years are not what you expected, which you mine for laughs.
Jeff Foxworthy: What sets you up is these commercials: the couple retiring and out on a sailboat. It never happened [for me]! But I wouldn't trade my 60-year-old mind and soul for my 30-year-old body.
Why did you call this The Good Old Days?
My father-in-law was always talking about things being better then. I started listing things — toilets, beds, kitchens — and asking, "How is it now? How was it then?"
How did you pick the jokes to put in the special?
I tried out, "Don't look up [problems] on WebMD. A hangnail turns into a cerebral hemorrhage." People guffawed. The audience tells you what's funny.
Jeff Foxworthy: The Good Old Days, Streaming now, Netflix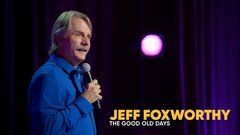 Powered by