'Wild Kratts' Go On an Underwater Mission In 'Creatures of the Deep!' (VIDEO)
Martin and Chris Kratt are back for another adventure in the new movie Wild Kratts: Creatures of the Deep! The zoologist duo go on an underwater mission for the first time, and when they face menacing creatures and the pressure of gravity in the exclusive clip below, they find a way to keep the mission going, as only the Kratts can do.
The team of Martin, Chris and Aviva face unexpected challenges, coming to terms with how vast the oceans really are. While fun and colorful, this PBS KIDS movie will also encourage kids to use science as a means of learning about the world around them.
RELATED: Ballet Star Misty Copeland 'Toons Up for PBS Kids' Peg + Cat (VIDEO)
The Kratt brothers have been sharing their love of science for over twenty years and lent their experiences to the shows Kratts' Creatures and Zoboomafoo, which also aired on PBS KIDS.
Creatures of the Deep! airs Wednesday, November 23, 9 am/8c, PBS KIDS.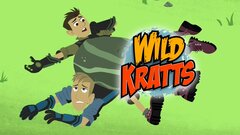 Powered by