'The Walking Dead' Sneak Peek: Connie and Mercer Aren't Playing Nice (VIDEO)
Since AMC's The Walking Dead entered the Commonwealth, plenty of the show's characters have brushed up against the rules and rule-enforcers of the seemingly idyllic community. After all, with a society of roughly 50,000, there's plenty of room for some major secrets behind the closed doors of the Commonwealth.
While most of the show's beloved survivors haven't exactly let their guard down, some are keeping their guard way up. That's especially true for the newly-returned Connie (Lauren Ridloff), who was separated from the group for weeks after their run-in with the Whisperers and had only just returned when they received the offer to live in the Commonwealth. Now, she's getting back to her journalism roots from before the apocalypse, and using her investigative skills as a member of the Commonwealth Tribune…to take it all down from the inside? Maybe not, but still, it's obvious from last week's gala that Connie thinks there's something very suspicious going on and she's doing everything in her power to figure out if this home is truly worth it for her and her friends.
In this exclusive clip from this Sunday's episode, "Rogue Element," Connie and Kelly (Angel Theory), acting as her interpreter, go on what seems to be a ride-along with Mercer (Michael James Shaw) and the military. Nobody seems thrilled by the arrangement. "This is the part where you ask me the questions they sent you," a bloodied Mercer tells her.
Instead — she goes rogue, leaving Kelly to approach a menacing Mercer with the following question: "It's been a month since former trooper Tyler Davis has been in the hospital under armed guard. What is he being charged with?"
Connie also shows her hand, revealing that she knows the hostage from last week's episode, Max (Margot Bingham), the assistant of Governor Pamela Milton (Laila Robins), is Mercer's sister. She implies that the military is controlled by the government, but Mercer gives it right back, implying the same of the Tribune. "If I were you, I might wonder why I'm out here digging for answers that we both know will never see the light of day," he says.
Don't forget, Connie and the Miltons have some serious history. Connie's pre-apocalypse reporting led to the disgrace of Pamela's congressman Uncle, and who knows how that might've also affected Pamela's POTUS father as well. Could Connie be getting in over her head here? Or is she exactly what's needed to uncover the real truth lurking behind the Commonwealth.
Check it all out in the exclusive clip above.
The Walking Dead, Sundays, 9/8c, AMC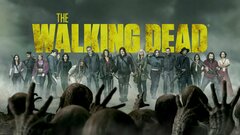 Powered by