3 Reasons to Binge 'Upload' Season 2 on Prime Video
Upload, the sci-fi satire set in a world where one's consciousness can be uploaded into a digital afterlife is back for Season 2 on March 11, with deceased Nathan (the unfairly charming Robbie Amell) navigating a cache of issues in the virtual resort Lakeview.
It's one of the smartest comedies on streaming, the cast is a blast and the writing crackles with the same off-center optimism for mankind that show creator Greg Daniels delivered back during his days on Parks & Rec. Here's why you should hack into it.
1. The love story.
With the unexpected uploading of Nathan's vain, bossy girlfriend Ingrid (Allegra Edwards), all we want for the recovering bad boy is to reunite with his earnest but MIA handler, Nora (Andy Allo, one to watch, for sure). But how do you ghost someone who died for you?!
2. The supporting cast.
In addition to the riotous Edwards, the perfectly utilized Zainab Johnson and Kevin Bigley steal scenes as Nora's no-BS colleague and Nathan's bro-tastic yet oddly insightful buddy. Their stuff, both together and separately, is enough to sustain a spin-off should we be so lucky.
See Also
The Prime Video comedy is back and it comes bearing hot men in towels.
3. High-stakes drama.
Outside of Lakeview, we get to see more of the real world, where anti-tech types need Nora for a mission that could kill more than her future with Nathan. And that's not the only mystery. There's also some serious questions surrounding Ingrid's demise, as well as the actual operations within Lakeview's owners. Oh, and don't even get us started on the cyberbabies known as "Prototykes."
Upload, Season 2, Streaming Now, Prime Video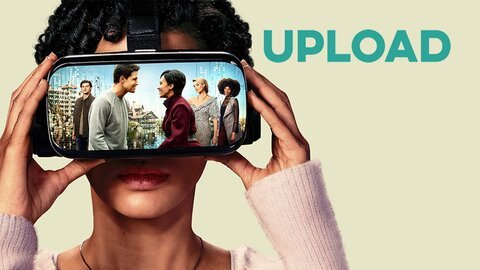 Upload
where to stream
Powered by