'The Julia Child Challenge': Head Judge Antonia Lofaso on How the Series Honors Culinary Icon
Is there any better way to honor Julia Child's legacy as a beloved, iconic chef than through a little kitchen competition? The Julia Child Challenge sees eight home cooks from all walks of life taking on culinary challenges. In the end, one wins the opportunity to follow in the legend's footsteps with an all-expense-paid three-month cooking course at Le Cordon Bleu in Paris. 
Head judge Antonia Lofaso welcomes a rotating panel of discriminating palates to the dinner table to help with the decision-making process. In order to create a high level of authenticity in aesthetics and heart, producers collaborated with The Julia Child Foundation for Gastronomy and the Culinary Arts.
Lofaso lets us in on how the show's storytelling ingredients celebrate all things Julia. 
When did you first learn about Julia Child?
Antonia Lofaso: I remember as far back as just being a kid and watching reruns of her shows. My favorite was when she was explaining chicken. The humor behind it made me feel super connected because in my household, sarcasm was humor. I remember [even as a kid] how funny I thought she was. As an adult, I see what went into her teaching. I remember when she was explaining the different sizes of chicken and pulling out this sword. I felt like her ideas of entertainment at that time were so fun and different. As I got older I started to realize, especially as a woman, during that time when she learned to cook and obviously when she became big on her television shows that she spoke with reckless abandon. She said how she felt. She did it with such conviction and confidence.
Your show recreated Julia's kitchen in painstaking detail. What was it like walking through that side door and into her world?
The amazing part is when my daughter was 7 I had her come with me to the American History Museum just to see a replica of her kitchen. Walking into that kitchen you could feel the history of it, every detail [such as] the bowls of Goldfish [crackers] that were laying around because she liked the bowls for Goldfish. Dorie Greenspan [author of the book Baking With Julia],who came as a judge told us the story, how she would have bowls of Goldfish and would sit there and have a cocktail. If you weren't eating them, she would put them on the table and sort of flick them at you. The way they recreated the kitchen, every judge had their own personal connection. Walking through the side kitchen door resonated with the judges and chefs there. There was more than one occasion where our judges would get emotional walking into the kitchen the first time. I think everyone understood the gravity of what it meant to make this show. 
What did you take from the experience?
What Julia did so well is build this connection with family and friends and storytelling and emotion with cooking. One of the challenges was to create a dish based on that emotional connection with a person in your life.  That was [husband] Paul for her. She shared that so openly. When we lost my daughter's father, my father stepped in for me. In order for me to open restaurants and make money and continue my dream, he helped me in [an incredible] way. My love language — as is the case for a lot of the chefs, including Julia's — was food. I would cook for my father as a show of appreciation. It was a really touching episode. 
In the premiere episode, a gentleman works to overcome his fear of cooking with fish. What was it like for you to see the impact the show had on the competitors?
When you let the challenges play out organically, you see these beautiful moments happen. All these home cooks transform in some way or another. I spoke to them about my personal experience. The first time I competed, it opened up the portal of learning in ways I didn't expect. How you learn so much about yourself when you are pushed in these situations. The gentleman did exactly that. He was petrified of this fish, but he did it. Every single person has their moment. It was incredible to watch. 
How did this compare to the other competitions you've judged?
It's interesting because it almost felt like all these home cooks were in this together. The judging was different because everyone sat around the table as if we were all sharing a meal together. We talked about how they have this unique opportunity right now to sit amongst amazing chefs, food writers, cookbook authors, to get feedback. Feedback is important. They understood that. This was not something to make you feel bad but to cook better. They all understood that. 
You've hosted and judged on a number of shows. But you're also still competing, like in Guy Fieri's Tournament of Champions this season.
I look at two people still doing it, in Bobby Flay and Alex Guarnaschelli. I will never stop cooking and competing. That's how I got into this. It keeps me fresh. At the end of the day, I'm a cook. I love the opportunities I get to do. I don't want to stop playing. When we do the Tournament of Champions senior citizen edition, I'll be on that. 
If Food Network decided to tell another chef or cook's life through a show like this, who do you think would be a good focal point?
I would love to see Anthony Bourdain. I think it would be incredible. I don't think The Julia Child Challenge is over though. I think there are so many more stories and dishes. I don't think we are finished yet at all. 
Are we going to see anything involving a turkey?
You may not see a turkey, but you might see something with a chicken. 
Julia Child Challenge, March 14, 9/8c, Food Network, and Discovery+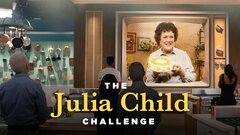 Powered by