Head Back to the Beach with 'Siesta Key' Season 4 New Episodes (VIDEO)
Sick of the gloomy winter weather? Take a trip down to Siesta Key with brand-new episodes premiering on MTV on Thursday, March 10.
"This summer in the Key is about change, growing up, finding yourself, and deciding who you want to hold close… and who you've outgrown. The new slate of scorching episodes spotlights Juliette, Kelsey, Chloe, Madisson, Amanda, Garrett, and Brandon along with a few fresh faces, as they face unexpected challenges and surprises," states the season's description.
Fans are in for several surprises as new drama stirs up between the show's main cast. Juliette and Sam realize their "fairytale romance" isn't all it's cracked out to be, as Juliette struggles to "choose between her relationship or herself as she continues to navigate growing a fashion empire and her thirst for independence."
Kelsey is also left questioning both her business and relationship, while Chloe thinks she may have found "the one," as long as Cara stays out of it. Madisson may have moved out to LA but is continuing to plan her dream wedding in the titular beach city.
Also lucky in love this season is Amanda, but a family issue may influence her ability to commit to her new relationship. Garrett faces a similar issue, as his closest friend expresses disapproval of "the love of his life," Kenna. Finally, Brandon is looking to step up his "dad game" while staying true to himself and his passions.
The series comes From Entertainment One and Creature Films, with executive producers Tara Long, Mark Ford, Kevin Lopez, Tom Danon, Gary Kompothecras, Warren Skeels, Cecily Deutsch, Scott B. Morgan, Daniel Blau Rogge, and Jennifer Aguirre.
Siesta Key, New Episodes, Thursday, March 10, 9/8c, MTV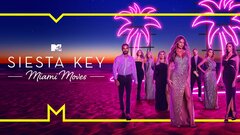 Powered by