Zack Clayton on First AEW Win and Having His 'Jersey Shore' Fam Ringside
After two years of matches in All Elite Wrestling, Zack Clayton finally got his first win. The star defeated the masked Serpentico with "Fisherman Buster" on the February 14 episode of Dark: Elevation. Making the victory that much sweeter was having the Jersey Shore fam ringside.
Fianceé Jenni "JWoww" Farley, Mike "The Situation" and Lauren Sorrentino, and Deena Buckner cheered on their favorite pro wrestler. Mike even got in the face of the frightening Luther where fist-pumping almost tuned into fist punching. We chatted with Clayton days after the milestone.
What did it mean for you to have that first win in AEW?
Zack Clayton: Wrestling returning to Atlantic City alone is a big event. That arena, Boardwalk Hall, is a historic place. I had that feeling and wanted to make it special, so I asked Jenni if she would come down with the kids. Then we asked Mike and Lauren and Deena. We made it a big thing, and it was awesome. Having them there also is special. The fact I got my first win in front of a big crowd like that in that historic venue. Everything combined made for an important night for me.
When you initially invited them, did you know what the result would be?
I knew nothing. I knew I had a match, which is why I wanted them to come and watch. They loved that too, especially the kids. Mike, Lauren, and Deena, that was their first time coming to check out what I do. Mike is a big wrestling fan. He was living for that moment he had there and the match and the show. It was a great time.
For so long you have been the guy relied upon to put over other AEW talent, but this time it was your turn. What made the night different?
I have had a really good relationship with AEW for the better part of two years now. It came down to, "Hey, you're going to get a win." It worked out it was a bigger show. Plus Jenni and the cast were there and we were filming also for MTV. It just worked out. Felt like a good moment to do it.
WOW! @zackclayton scores his first win in #AEW, over @KingSerpentico, with his crew (@JENNIWOWW @DeenaNicoleMTV @ItsTheSituation @lauren_pesce) cheering him on at ringside!

Catch all the #AEWDarkElevation action right here!
▶️ https://t.co/AYIRdlvWbC pic.twitter.com/NzZfhLVHGL

— All Elite Wrestling (@AEW) February 15, 2022
Do you see this win leading to something more as far as usage on AEW TV? What's the future with the company?
I have future dates with the company. We're going to keep pushing toward that. As far as TV appearances, that is not discussed at this moment. They are going through some changes right now. Not to say there won't be a TV appearance in the future. I'm positive there will be. We just have to work that out at some point.
You talked about the changes backstage. How did you react to the news of Cody and Brandi Rhodes leaving AEW? What kind of interactions did you have with them?
To peel back the curtain a little bit, Cody and I and Brandi and Jenni are very close friends. I have a good relationship with them outside of wrestling. Not to say I knew that was going to happen because I did not. But I wasn't overly shocked. You can't be overly surprised about anything in the wrestling world. Things just change every single day. There is a void there. I like the two a lot. We'll see what the future holds for them. We're still friends. That didn't change anything. We'll see what happens next.
Are you fully committed right now to AEW? Or are you open to working elsewhere like a WWE or an Impact Wrestling?
I'm absolutely am a free agent right now. AEW has given me a great opportunity in the last two years. I'm hopeful it will. They are great, but I'm definitely open to other promotions and other offers. I have had some offers. I'm not really stuck to anybody right now and will entertain other ideas as well.
Who would you say you've learned from in AEW as you grow as a performer?
AEW has an abundance of brilliant minds. More recently in the last year, I have had a chance to talk to those minds. Certain people have taken time to talk with me about a match or insight or knowledge or things. First of all QT Marshall, I have a good relationship with. He is a smart guy who doesn't necessarily get the credit he deserves. Billy Gunn, Mark Henry, Big Show, Arn Andrson, Dean Malenko, Cody during his time. I personally find it very important to take advantage of having those minds around.
Jenni has a history with wrestling. Any talk of her being your valet or part of a storyline?
I would love for Jenni to do that. Believe it or not, she has stage fright. She hates being the center of attention in front of a lot of o people, which is what wrestling is. I'm still trying to convince her still. It's taking a little bit longer. I'm hoping someday I can get her in there doing something with me.
AEW Dark: Elevation, Mondays, 7/6c, YouTube
Jersey Shore: Family Vacation, Thursdays, 8/7c, MTV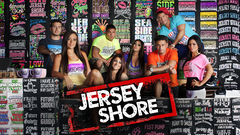 Powered by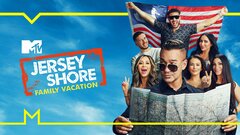 Powered by