'Outlander': Bree & Roger Worry About the Revolution in Season 6 First Look (VIDEO)
Outlander's Season 6 premiere is around the corner, and Starz is treating fans to some sneak peeks ahead of the return.
In a newly-unveiled clip featuring Sophie Skelton's Brianna and Richard Rankin's Roger, the couple reflect on the incoming American Revolution and question their role in it. Stuck in the 18th century, Bree and Roger have begun settling into life on Fraser's Ridge in North Carolina, but tensions for the brewing war are only just starting.
As the pair scuttle about the kitchen, Roger asks Bree if she'd prefer tea or coffee, "whatever you can find, I guess?" she responds with a laugh. The comment clearly refers to shortages of beverages during this difficult time, allowing their conversation to segue into more pressing topics.
"Imagine how many good cups are gonna be tossed into the bloody harbor," Roger comments, in an off-handed joke about their insider knowledge of the Boston Tea Party. "Hey, who's side are you on?" Bree asks, putting Roger on the spot.
"Don't forget your mother and I were both on the losing side," Roger reminds his wife who grew up in 20th-century America. Bree gets where he's coming from, but further pushes her husband to declare his loyalties to the Americans. "You're obviously a patriot, right?" she asks.
"Well of course, if America doesn't become America, who knows what that world will look like?" Roger agrees, leading the couple deeper into a conversation about the impending Revolutionary War. Catch the full clip, below, and don't miss Outlander when it finally returns to Starz.
TV Guide Magazine's Outlander Forever Special Collector's Issue is available for order online at OutlanderForever.com and nationwide on newsstands now.
Outlander, Season 6 Premiere, Sunday, March 6, 9/8c, Starz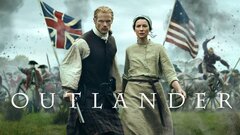 Powered by