The 9 Best Moments Between Villanelle & Eve on 'Killing Eve'
It's February, and we all know what that means. No, not Valentine's Day. Killing Eve is back!
But on the subject of romance, there are plenty of shippers hoping that the show's two main characters, psychopathic assassin Villanelle (Jodie Comer) and increasingly unstable former MI6 agent Eve (Sandra Oh), wind up together before the final credits roll. They've had an incredibly complicated, romantically-charged entanglement running through the show's three aired seasons, and it's not hard to think that despite the toxicity and attempted murders, they're destined for each other.
Here are some of our favorite moments between the show's central couple.
The Dance (Season 3, Episode 8)
As Season 3 winds down, Eve and Villanelle meet in a dance hall and, at Eve's suggestion, head out onto the floor. It's not even so much that they're dancing together as what they talk about while they do; Eve admits she no longer wants a "normal" life like the other couples, and Villanelle seems relieved when Eve doesn't recoil at her admission that she's "killed a lot of people." It's the closest we've been to seeing them as a couple — and to them admitting they see themselves as a pair.
The Not-So-Final Goodbye (Season 3, Episode 8)
"When I think about my future, I just see your face over and over." With such a frank admission from Eve, it's not too surprising that a "Villaneve" reunion was spoiled in the Season 4 trailer. Even when they agree to part ways and leave each other behind in the scene on the bridge at the end of Season 3, they just can't help turning around — proving that for better or worse, they're inextricably bound.
Dinner Date (Season 1, Episode 5)
In one of the most intense moments from the first season, Villanelle shows up at Eve's house… but not to kill her. Instead, she "just wants to have dinner" with the woman investigating her, and they have a loaded conversation over some shepherd's pie. Knives are pulled. Phone passcodes are given. Perfumes are smelled. The whole thing is very intense, and very…charged.
Eve's Confession (Season 1, Episode 8)
By the end of Season 1, it had become clear that Eve's interest in Villanelle bordered on infatuation. At her apartment, Eve admits to the well-dressed assassin that she thinks about her "all the time," and that she wants to know everything about her. As if that wasn't enough, they end up in bed together. Things go sideways shortly afterward — like, "attempted murder" sideways — but this scene took the undercurrent of subtext that had been running throughout Season 1 and turned it into straight-up text.
Meeting Again (Season 2, Episode 5)
Eve and Villanelle came face-to-face again, finally, in the fifth episode of Season 2. Villanelle thought she'd been assigned to kill Eve, but as it turned out, the mission was Eve's idea — it was a way to bring the assassin in to hire her. As with any and all Villaneve scenes, the tension is palpable; Eve strokes V's face, they both admit they think about what happened between them "all the time," Villanelle pulls a knife on Eve, they look at each other's lips. It's unclear whether they're going to kiss or kill each other, but something's definitely going on.
The Kiss on the Bus (Season 3, Episode 3)
So perfectly awkward. In their first face-to-face meeting since Villanelle shot Eve in the Season 2 finale, V tracked Eve down on a bus. Eve assumed the assassin was there to finish the job. They fought. They screamed. And then…they kissed? While Eve making a move on Villanelle was at least partly to throw her off so she could break free, there's no denying how stunned both women were in the aftermath. (And Villanelle, at least, looks pretty happy.)
The Door Scene (Season 2, Episode 3)
As Eve continues her investigation in Season 2, she just barely misses capturing the assassin at a run-down hotel, but she does figure out that Villanelle's hiding behind a locked door, watching her. She stands there, seeming to sense Villanelle's presence, while V, on the other side, smiles. Both women press their hands to the door. The music swells. Longing sighs are exhaled. And the tension is killer.
The First Meeting (Season 1, Episode 1)
Neither Eve nor Villanelle could've imagined what would come of their cat-and-mouse game — and at the time they first met in a hospital bathroom, where Villanelle was sent to kill someone Eve was there to question, they were blissfully unaware of who the other person was. Love at first sight? Who can say. But as poor, doomed Bill later points out, Eve sure remembered Villanelle's "wide, catlike eyes" and "delicate features."
Eve Tries to Talk to Villanelle (Season 1, Episode 5)
If you're on the run from a deadly assassin who's trying to kill your colleague, do you stop the car, get out, and try to introduce yourself? Eve sure did. Against her co-workers' wishes, she stepped out onto the dirt road to wave to Villanelle, fully convinced that she was the assassin's object of desire. For her part, V pretends to turn the gun on herself before laughing, firing a shot at the ground and running away. It's a brief moment, but one that demonstrates how obsessed the women have become. Villanelle is intrigued by Eve's boldness, and Eve is… well, we already know Eve wants to know everything about Villanelle.
Killing Eve, Sunday, February 27, 8/7c, BBC America; Monday, February 28, 9/8c, AMC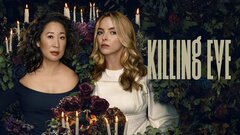 Powered by