Eric McCormack Previews Hallmark's 'A Heavenly Christmas'
The stars didn't so much align as line up for Hallmark Hall of Fame's A Heavenly Christmas. Sex and the City's Kristin Davis plays Eve, a recently deceased workaholic drafted by a heavenly matriarch (Shirley MacLaine) to be a Christmas Angel (think: a guardian angel who works holidays). Eve's first charge is Max (Will & Grace's Eric McCormack, above, with Davis), the winner of a TV singer-songwriter contest. Max lost his record contract after his partner (also his sister) died in a car accident and now runs a tiny Chicago diner—and he needs some yuletide inspiration. We asked McCormack about getting into the Christmas spirit.
RELATED: Jesse Metcalfe on Showing His Musical Side in Hallmark's Chesapeake Shores
How is Eve trying to help Max?
She's trying to make him understand the very thing that she never understood, which is happiness is right in front of you. You have to open your heart, and you can't give up. The movie is Heaven Can Wait, A Christmas Carol and It's a Wonderful Life. It's a redemption story where the lead character realizes that the journey they're taking is for their own sake rather than for someone else's. She thinks she's there to save him, but she's really saving herself.
It was unusually balmy when you filmed in Vancouver this fall. What's it like to play pretend Christmas in the heat?
It's hysterical! It can be fun, but when it's really hot, it's terrible because you're in winter clothes and constantly going, "I don't really need these in this scene." And everyone else is like, "It's Chicago in December. You need gloves!"
You seem pretty comfortable in the diner's kitchen. Do you cook?
I'm pretty good. But I also spent eight years in Will's kitchen on Will & Grace. Every episode, [director] James Burrows would say, "You'll be up in the kitchen." And I'd have to think of something new to make. I'd turn to the prop guy and go, "I'm going to make brownies!" and he'd say, "Yes, sir!" I got used to acting with kitchen props. [Laughs]
A Heavenly Christmas, Movie premiere, Saturday, Nov. 26, 8/7c, Hallmark Channel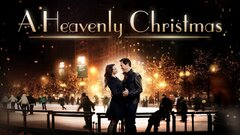 Powered by