'The Flash': 3 Things to Know About Season 3
The Flash's newest Wells (Tom Cavanagh) isn't quite the man the team hoped he would be.
In the last episode, "Monster," Cisco (Carlos Valdes) realized Wells wasn't actually adding anything to the team; in fact, he was merely rephrasing what everyone else was saying instead coming up with anything new. Wells copped to being a novelist in his world—and his partner was the one who actually cracked the code that brought him over to this Earth.
But will he fit into the world going forward? The Flash team answered a few burning questions.
How reliable is this Wells?
After dealing with a Wells imposter as a Big Bad and one from another Earth as a cranky (often-reluctant) helper, this new version is an entirely new entity. He's "a bit of a con man," Cavanagh recently explained to reporters on the show's Vancouver set. "But I didn't want to repeat myself from last year so what I thought [what] I would try this year is [play] a guy who fills it up with comedy, if you will. The same element of if you can trust him or not is there, but in a different way."
But what can Wells contribute to the team? "It's not a Wells that we can easily count on all the time," Keiynan Lonsdale (Wally) pointed out.
However, the story Wells is writing could provide needed insight into the man. "The narrative that he's tackling will reveal itself over upcoming episodes," teased Valdes.
RELATED: The Flash's Candice Patton on #WestAllen, Super Crossovers and Iris's Daddy Issues
How far will Wally go to gain powers?
Wally was able to live out his superhero potential in the season premiere's Flashpoint twist, but thanks to Barry's (Grant Gustin) fiddling with time, that experience was erased. But when the youngest West starts to have dreams about his time of Kid Flash, Barry may have to step in.
Going forward, "what we'll see is that he's not reckless for no reason," Lonsdale explained of his character's desire to be more. "His passion, there's a desperation and as he wants to prove himself, [and] we'll start to understand why he is reckless. He sometimes doesn't put enough value on his own life, which is something that he needs to learn. It's definitely going to go deeper and deeper as these dreams go further and manipulate in different ways, and he'll definitely be more affected, not necessarily as just more reckless, but it will strike a struggle in him."
RELATED: The Flash: How Everyone's Lives Change in Flashpoint Arc
How long can Caitlin (Danielle Panabaker) hold off the Killer Frost?
Though Caitlin went to her mother in an attempt to sort out her burgeoning powers, she only got the warning to refrain from using her powers as much as possible. Unfortunately for Caitlin, it's not entirely in her control. "Obviously, she is going through some physical changes, but she's figuring that out," Panabaker said. "As maybe you remember [in] Season 1 with Barry, it took him a minute to figure out his powers. 'Oh, I kept passing out because I don't eat enough.' Things like that. She's going to have to figure out different ways to cope with these changes."
Caitlin's friends have previous experience with metahumans, but Panabaker understood why her character opted to tackle this herself. "I think she doesn't understand it," she said. "That conversation would be a little bit difficult, like, 'Hey guys, I don't have any answers, but here you go.' Especially for Caitlin as a scientist and someone who is focused on always having the answers. She wants to get this figured out for herself before she comes to the team with [this issue]."
But how long will she be able to keep the secret?
The Flash, Tuesdays, 8/7c, The CW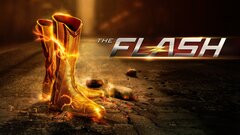 Powered by