'The Resident' Sneak Peek: Conrad & Cade Worry About a Lost Child (VIDEO)
Dr. Conrad Hawkins (Matt Czuchry) and Dr. Kincaid "Cade" Sullivan's (Kaley Ronayne) patient in the February 8 episode of The Resident has them very worried.
Conrad's on his way into Chastain when a tow truck driver calls him over. He found a young girl (Madison Johnson) alone, on the side of the road, limping and cold, in the rain. The girl hasn't made a noise — to say a word or cry — since he found her. "I'm a doctor, I won't hurt you. I'm going to take care of you, I promise," Conrad says, trying to reassure her. She doesn't talk, but she is drawn to the bracelet he's wearing, from his daughter GiGi, and lets him carry her inside.
Once they're in the hospital, Cade joins them and the doctors begin checking her over. She needs to be warmed up, and her shoulder is dislocated. Watch the clip above for more.
See Also
'Matt Czuchry is taking this very seriously. He wants to make sure that when Conrad is in a relationship, it's the right relationship.'
In "Now You See Me," Conrad and Cade will be trying to get to the bottom of what happened to this lost child, who shows physical signs of abuse. Meanwhile, it sounds like work follows Dr. Devon Pravesh (Manish Dayal) and Dr. Leela Devi (Anuja Joshi) on a day off. While out shopping, they encounter a woman having trouble breathing, and when she arrives at the hospital, Devon makes sure she feels comfortable with the staff.
Plus, Dr. Randolph Bell (Bruce Greenwood), who was just diagnosed with multiple sclerosis, eyes an open seat on the State Medical Board, and Dr. Billie Sutton (Jessica Lucas) decides it's time to confront her past.
The Resident, Tuesdays, 8/7c, Fox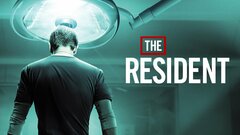 Powered by