'Better Call Saul': Gus Fring's Home Hints at Season 6 Premiere Date in New Promo (VIDEO)
UPDATE (2/10/2022):
Better Call Saul's latest teaser appears to confirm fan theories regarding the show's sixth and final season premiere date.
The latest tease features everyone's favorite villain Gus Fring (Giancarlo Esposito) who is picking up some mail and walking under a set of numbers that hold some significance. "#BetterCallSaul returns. When, you ask? Stay tuned," the latest video was captioned on social media.

#BetterCallSaul returns. When, you ask? Stay tuned. pic.twitter.com/MiLKpvm0TC

— Better Call Saul (@BetterCallSaul) February 10, 2022
The Los Pollos Hermanos restauranteur is in a setting that fans haven't seen him in since Breaking Bad, his suburban home that Walter White (Bryan Cranston) once visited. Could we be getting a peek into his home life and family? It's certainly a possibility. Either way, the tease does seem to suggest that the premiere date will be April 18, as Gus's home is labeled "418."
Fans previously theorized this with another teaser, below, featuring the Salamanca twins Leonel (Daniel Moncada) and Marco (Luis Moncada) when the letters "D" and "R" appeared. Viewers deciphered the letters as representing numbers, which would translate to 4 and 18. Stay tuned to see if AMC will confirm this as more hints about Better Call Saul's final season are unveiled.
ORIGINAL STORY (2/7/2022):
It's been quite a while since fans last spent time with TV's favorite criminal lawyer, but the return of Saul Goodman (Bob Odenkirk) appears to be imminent as AMC unveiled its first Season 6 teaser for Better Call Saul.
The show's final season has yet to set a premiere date, but this brief promo does promise the return of some familiar faces as the Salamanca twins Leonel (Daniel Moncada) and Marco (Luis Moncada) appear. Their ominous shadows open up the scene, which sees their signature skull-toed boots approach a crime scene.
While it's been nearly two years since the Season 5 finale, fans should recall the ambush on Lalo (Tony Dalton) and the Salamanca family's compound, courtesy of Gus (Giancarlo Esposito) and his green light call from mole Nacho (Michael Mando).
It would seem that the crime scene the Salamanca twins are entering belongs to the aftermath of this night in which several family members were slain. What will they do? Perhaps they're meeting up with Lalo, who escaped the carnage through a hidden tunnel, or maybe they're on the lookout for Nacho, who disappeared just moments before chaos ensued.
The video was shared with the caption, "Mark your calendar," but the video doesn't appear to offer a direct date. Could there be a hidden clue in the visuals? Some fans online are theorizing the "D" and "R" visible in the crime scene are codes for the numbers "4" and "18" as "D" is the 4th letter in the alphabet and "R" is the 18th, translating to 4/18. 
Is there an April premiere on the horizon? Let us know what you think in the comment section, below, and stay tuned for the premiere date announcement, and a possible full trailer in the near future as Season 6 nears.
#BetterCallSaul returns for its final season. Mark your calendar. pic.twitter.com/xX7Rsb3qmK

— Better Call Saul (@BetterCallSaul) February 7, 2022
Better Call Saul, Season 6, TBA, AMC and AMC+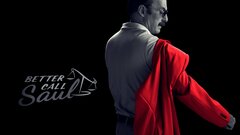 Powered by